Alphabet Boss Sundar Pichai's Pay Topped $200M In 2022
The number one executive at Alphabet Inc (NASDAQ: GOOGL), the parent company of search engine Google, was paid a hefty…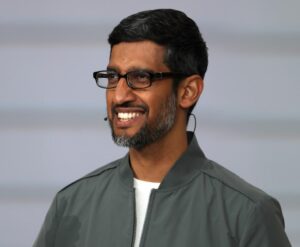 The number one executive at Alphabet Inc (NASDAQ: GOOGL), the parent company of search engine Google, was paid a hefty sum last year. According to a recent securities filing, chief executive Sundar Pichai was awarded over $200mn in compensation in 2022, and other top executives also got lucrative pay packages.
Pichai's total compensation in 2022 was $226mn. But there's more to the story. Most of the compensation came from a $218mn stock award that vests over three years, so Pichai won't claim the full amount until 2025. Besides, the final amount can be lower (or higher) depending on Alphabet's stock price movement over the next three years.
For instance, Pichai was granted $277mn in shares in 2019 that were vested over three years. According to the recent securities filing, he ended up netting $504mn due to increases in Alphabet's share price, an average of $168mn a year.
The rest of Pichai's 2022 compensation came from a $2mn base salary and $5.9mn in personal security costs, which includes private aircraft use.
Other top-earning Alphabet executives include Chief Financial Officer Ruth Porat, Chief Business Officer Philipp Schindler, and Chief Legal Officer Kent Walker.
Porat was paid $24mn in 2022, including a $1mn base salary, $22.6mn in stock awards, and a $775k cash bonus.
Schindler got a $37mn pay package, including a $1mn base salary, $35mn in stock awards, and a $775k cash bonus.
Walker was paid $24mn, including a $1mn base salary, $22.6mn in stock awards, and a $775k cash bonus.
Like Pichai, the stock awards for the aforementioned executives vest over three years.
Alphabet declared a $60bn net income on $282bn in revenue in 2022, compared to a $76bn net income on $258bn in revenue in 2021. After several years of unprecedented revenue growth and hiring, the tech giant notably downsized this year; it cut 12,000 jobs, or 6% of its workforce, in January.
Pichai was appointed chief executive of Google in 2015 and to the same position at parent company Alphabet in 2019, replacing co-founder Larry Page. Pichai was paid $100mn in 2015 and, in 2016, $200mn, most of it in shares that vested in ensuing years. These hefty share packages have made him one of the highest-earning chief executives in modern history.
A $226mn pay package makes Pichai the highest-earning chief executive offer of an American publicly-traded company in 2022. The top-paid list is largely dominated by tech company executives, including Oracle Chairman Larry Ellison ($139mn), CrowdStrike CEO George Kurtz ($148mn), Microsoft CEO Satya Nadella ($55mn), and Bill.com executive Blake Murray ($124mn).