Invest In Dymicron: Delivering Stronger And Long-Lasting Cervical Disc Implants
This is a sponsored post Dymicron is an innovative company offering a groundbreaking solution for the $1B spinal disc replacement…
This is a sponsored post
Dymicron is an innovative company offering a groundbreaking solution for the $1B spinal disc replacement industry. And even though Dymicron stock is private, they are currently accepting investments from anyone, including non-accredited investors.
Here's why Dymicron is such an exciting startup and how you can add Dymicron stock to your portfolio right now.
Why Invest In Dymicron Now?
Dymicron's innovation is urgently needed for millions of patients around the world. Not only does that make investing in Dymicron a great opportunity, but your investments could make the lives of millions of people better.
Degenerative disc disease is an ailment that affects many, especially older people. It occurs due to wear and tear on the joints as people begin to get older. The exact reason for this ailment is unclear to medical researchers, but what's clear is that a damaged disc causes pain and limits the locomotion of anyone it affects.
Artificial disc replacement surgery is one method employed to tackle degenerative disk disease, specifically severe cases. The results are positive but not flawless. The success rate varies between different artificial discs but it hovers around 80%, according to the U.S. Food and Drug Administration (FDA). Failures occur because metal and plastic components in artificial discs can wear out over time and leave debris in the body. Dymicron is aiming to improve the success rate with its unique type of artificial disc.
Dymicron is working on an artificial disc called Triadyme-C that's made of diamond, the hardest known material on Earth. The company uses a special and patented type of manmade, Polycrystalline Diamond that's fused together under high-pressure and high-temperature conditions to guarantee extreme hardness. The goal is for Triadyme-C to last an entire lifetime and not be prone to wear and tear like many artificial discs in current use.
Triadyme-C uses a novel Tri-Lobe design structure that seats three spherical lobes within three pockets. This design imitates the motion of a healthy spine and delivers better stability (as illustrated below);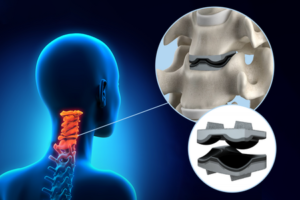 Triadyme-C has been implanted in over 500 patients outside the U.S. Right now, the company is preparing for a trial with American subjects to get approval from the FDA. Investing in Dymicron will help the company fund its FDA trials and scale up manufacturing to meet demand.
The clinical trial for people outside the U.S. has already shown positive results.
Why Invest In Dymicron?
The global cervical disc implant market was valued at $1.6 billion in 2022 and is expected to grow to $4.4 billion by 2028. The U.S. holds the largest share of the global market and is expected to grow from $450 million in 2022 to $1.2 billion by 2028. 
Dymicron has positioned itself to capture this market with its diamond-strong solution. Not only does it not wear out (leaving wear debris in patients) but it helps restore natural anatomic mobility of the neck And because of its 83 patents, other companies can't copy this innovation. 
Studies show that disc degeneration is detected in 85% to 90% of the population above 60 years and nearly 100% by the age of 70 although the severity varies. In other words, this ailment greatly affects people of old age, many of whom would seek solutions. However, the average age of patients seeking relief from painful degenerative cervical disc disease and wanting to preserve motion of their neck is 45 yrs old.  Dymicron has positioned itself to provide that solution and earn revenue. It currently operates a manufacturing facility in Orem, Utah, where it owns all the equipment used to manufacture Triadyme-C. Dymicron Stock Price Is $5.75 Per Share
While Dymicron is a private company and isn't traded on public markets, shares of Dymicron stock can be bought for $5.75 during this offering window. 
How Do I Invest In Dymicron?
In January 2023, Dymicron partnered with DealMaker to launch a Regulation A+ equity offering. . Dymicron is selling shares at $5.75 apiece and seeking to raise a total of $15.8 million. You can read the prospectus filed with the SEC here. 
Dymicron intends to use most of the proceeds to fund an FDA clinical trial. It also plans to use some of it to expand commercialization of its product in Europe and other select International markets., which represents another huge growth opportunity for Dymicron. Like with all investments, there's no guarantee of success, but Dymicron is already showing promising results.

*Disclosure: This is a paid advertisement for Dymicron's Regulation A+ Offering. Please read the offering circular at invest.dymicron.com