Invest in EthicStream And Make Carbon Credits More Accessible And Reliable
This is a sponsored post How Investing In EthicStream Can Help Solve Climate Change Ask most people about the biggest…
This is a sponsored post
How Investing In EthicStream Can Help Solve Climate Change
Ask most people about the biggest challenge faced by humanity, and you'll likely hear about climate change. A recent survey by the Pew Research Center showed that over 70% of people across North America, Europe, and the Asia-Pacific are concerned about climate change affecting them personally in their lifetimes and are vouching for solutions to tackle it. Other regions of the globe have a similar level of concern.
This is an urgent problem begging for a solution. And EthicStream is leading the charge. That's also good news for investors because a problem of this magnitude is creating a massive market opportunity. 
Over 190 countries have signed the Paris Agreement, which declares that carbon emissions must reach net zero by 2050 to reverse the effects of global warming. Fulfilling this pledge means investing a lot in solutions to tackle global warming, and EthicStream is a company that's offering a solution in the form of premium carbon credits.
One of the measures humans have adopted to tackle climate change is creating carbon credits, which are tradable permits that allow the buyer to emit a specific amount of carbon dioxide or an equivalent amount of another greenhouse gas. Businesses that reduce their carbon output or groups that are able to remove carbon from the air can earn carbon credits to sell. 
Though it's well thought out, carbon credits face some major issues. Fraud is one of them, wherein dodgy actors earn carbon credits despite not actually reducing the amount of carbon in the atmosphere. EthicStream is working to tackle these issues by offering premium carbon credits that the buyers can verify as valid because EthicStream uses technology that tracks how much carbon was actually removed from the air for each credit it sells. That gives them a huge leg up as governments and industries take steps to crack down on low-quality carbon credits. 
At the same time, companies that emit carbon (which is basically every company) are being forced to reduce their carbon footprint by governments, investors, and customers.  Every year, more regulations are implemented to ensure that companies balance their emissions, so companies have to buy carbon credits.  There is not enough supply of quality carbon credits for all the companies that need them, which means prices will continue to increase – especially for trustworthy, quality credits.  
By investing in EthicStream, you can be part of the solution as the carbon credit industry grows. 
Why Is EthicStream's Innovation Groundbreaking?
EthicStream is offering everyday investors access to the carbon credit market, and because it buys only premium carbon credits from trusted carbon credit producers like CarbonEthic, which is developing the largest forest-based carbon offset project in the Western Hemisphere using its own technology to ensure that its credits are valid, transparent, and actually reduce carbon as advertised. Unlike other carbon credit producers, CarbonEthic credits are verified using remote sensing, artificial intelligence, and other technologies to guarantee a positive impact on the forests and the environment.
EthicStream is helping CarbonEthic to achieve its goals by pre-purchasing credits from CarbonEthic so that CarbonEthic can use that money to advance its project and produce more credits for sale.  EthicStream gets those credits at a discount of up to 30% and then sells the credits at full market prices later, giving EthicStream a locked-in profit while providing CarbonEthic with the money it needs to continue advancing its projects. 
CarbonEthic focuses on protecting forests so that those forests can remove carbon from the air to counter the effect of climate change. CarbonEthic's flagship project alone is 4 million hectares (about the size of Switzerland), and is expected to produce up to 16 million credits each year for the next 30 years, and CarbonEthic has a pipeline of 10 million more hectares, which could generate another 40 million credits or more each year.  CarbonEthic aims to have 100 million hectares of forest under management by 2030, enough to absorb a significant amount of global annual emissions. As a result, EthicStream expects to have a long-term supply of top-quality carbon credits to sell to customers with a locked-in profit for EthicStream, which is great for EthicStream, great for investors, and great for the planet.  
Not only does EthicStream sell premium credits, but it also gives buyers access to technology that enables the buyers to verify that the credits they bought actually removed harmful carbon from the atmosphere and improved the health of the forests.  The company won't just fund forest growth and management and expect the credit buyers to take their word. Instead, users will be able to monitor what their credits' impact from a mobile app that shows the specific data to support the impact they are funding. With this technology, buyers can see what their credits are doing in real-time and be assured that they're funding the reversal of climate change.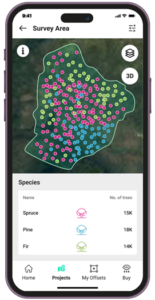 App illustration
Why Should I Invest In EthicStream?
The carbon credit market is one of the fastest-growing markets in history. According to consulting firm McKinsey, the global carbon credits market will be worth upwards of $50 billion by 2030. Another analysis from BloombergNEF notes that the market could swell to $550 billion by 2050, representing unfathomable growth.
Already, many big corporations (usually the biggest emitters) have committed to near-zero emissions in the next few decades. For example, Apple, Microsoft, and Facebook have pledged to net zero by 2030; Pepsi and Unilever have pledged to do the same by 2040; and oil giants BP and Shell have pledged to hit that goal by 2050. These companies have a lot of money to spend on carbon credits, and EthicStream is well-positioned to earn revenue by selling it to them.
EthicStream forecasts sales could be as high as $300 million in its fifth year of operation. That sounds very ambitious but is doable given the rapid growth of the carbon credits market. The company's growth strategy includes selling carbon credits purchased at discounts of up to 30% and providing technology and consulting services to help corporate clients meet their climate goals. 
How Can I Invest In EthicStream?
EthicStream is currently running a fundraising campaign that's open to investors as defined by the U.S. Securities and Exchange Commission (SEC). It's targeting to raise $10 million by selling 1 million shares for $10 apiece, with a minimum $500 investment. You can read the formal SEC prospectus here.
As with all projects, there's no guarantee of success. However, EthicStream has strategically positioned itself to capture a slice of the exploding carbon credits market. The company has several competitors in both carbon credits and climate change, but the enormous market means that there's space for various competitors to thrive and EthicStream is uniquely positioned for success through its experienced team and its partnership with CarbonEthic.
Investing in EthicStream is a way to make money while doing good. You can be a part of the green future and help reduce the effect of greenhouse gas emissions across the globe – and make money while doing it. 
Where is EthicStream Incorporated?
EthicStream is incorporated in the state of Delaware and headquartered in Greenwich Connecticut. The company has employees in both the U.S. and Canada.
Who is the team behind EthicStream?
EthicStream was founded by experienced entrepreneurs Joshua Soloway (Chief Executive Officer) and Michael Tolmie (Chairman).  Their team includes professionals with decades of experience in sustainability and technology, including Geoff Fawkes (Chief Technology Officer), and Jacques Prescott (Chief Sustainability Officer). EthicStream's advisors include a Nobel Prize winner, an author of Canadian carbon credit regulations, and respected experts in structured finance, forestry, and carbon markets.  This team has over 100 years of combined experience in carbon and the environmental, social, and governance (ESG) industries. 
*Disclosure: This is a paid advertisement for EthicStream's Regulation A+ Offering. Please read the offering circular at www.ethicstream.co