Celsius Co-Founder Alex Mashinsky Arrested, Charged With Fraud
The U.S. Justice Department has unveiled criminal charges against Alex Mashinsky, co-founder of Celsius Network, a bankrupt crypto lending platform.…
The U.S. Justice Department has unveiled criminal charges against Alex Mashinsky, co-founder of Celsius Network, a bankrupt crypto lending platform. Mashinsky was charged with securities fraud, commodities fraud, and wire fraud for allegedly lying to customers about Celsius's financial standing and the nature of its investments.
Mashinsky was further charged alongside Roni Cohen-Pavon — Celsius's former Chief Revenue Officer — with conspiracy, securities fraud, market manipulation, and wire fraud for allegedly manipulating the price of CEL, their platform's native token, while selling their own holdings at inflated prices.
Celsius was a popular crypto lending platform operating out of New York. It allowed customers to earn interest by lending their tokens to retail and institutional investors. It promised annual interest of up to 18% (unusually high in the finance world and a red flag). It all came crashing down in July 2022 when Celsius filed for bankruptcy because it didn't have enough funds to repay customers.
According to prosecutors, Mashinsky falsely marketed Celsius as a safe and secure platform and was successful at that; Celsius managed $25bn in assets at its peak. He allegedly lied about Celsius's yield-generating activities, profitability, and the risks associated with depositing assets with the platform.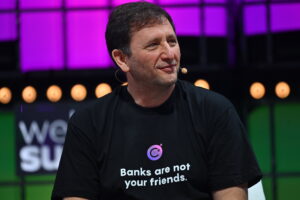 Prosecutors allege that Mashinsky and Cohen-Pavon manipulated the price of CEL, their platform's native token, by spending hundreds of millions of dollars (of customers' assets) buying it on the open market to inflate the price. During that period, Mashinsky gained $42mn from selling CEL tokens, and Cohen-Pavon gained $3.6mn, prosecutors said.
Celsius paused customer withdrawals in June 2022 and filed for bankruptcy a month later. Prosecutors alleged that shortly before the pause, Mashinsky lied about Celsius having sufficient liquidity to meet customer withdrawals while withdrawing $8mn worth of his non-CEL tokens from the platform.
Mashinsky was arrested on Thursday and will appear before a judge for a bail hearing. Cohen-Pavon, an Israeli citizen and resident, is currently based abroad and has not been detained.
The U.S. Justice Department isn't the only government agency on Mashinsky's tail. He was also hit with civil lawsuits from the Securities and Exchange Commission (SEC), Commodity Futures Trading Commission (CFTC), and Federal Trade Commission (FTC).
The SEC charged him with fraud, market manipulation, and unregistered sales of securities, asserting that Celsius's interest-earning program legally met the definition of a security.
The CFTC charged him with fraud and material misrepresentations concerning operating a digital asset platform. The agency also alleged that Celsius acted as an unregistered commodity pool operator (CPO) and Mashinsky operated as an unregistered associated person of a CPO.
The FTC filed a complaint against Mashinsky and Celsius's two other co-founders — Daniel Leon and Nuke Goldstein — for allegedly lying to Celsius customers and squandering their deposits.
It's a tough position to be fighting simultaneous lawsuits from the Justice Department, SEC, CFTC, and FTC. Mashinsky faces many years in prison and large monetary penalties if found guilty in these cases.