Hedge Fund Honcho Ray Dalio Steps Down After Five Decades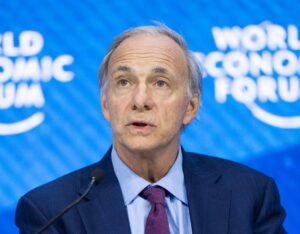 It's a memorable time in the hedge fund world. Ray Dalio, the founder of Bridgewater Associates, the world's biggest hedge fund by assets under management, has handed over the reins after nearly five decades at the firm. He has given up the role of co-chief investment officer (co-CIO) and ceded his majority stake in Bridgewater to the firm's board of directors.
Dalio founded Bridgewater in New York in 1975. He steered it from a small fund into a current juggernaut managing over $150bn in assets. Dalio began his transition by stepping down from his co-chief executive officer (co-CEO) role in 2017. Now, five years later, he has finalized it by giving up the co-CIO role and placing his firm in the control of other leaders.
Bridgewater's executive team now comprises two co-CIOs, Bob Prince and Greg Jensen, and two co-CEOs, Nir Bar Dea and Mark Bertolini. Prince and Jensen are longtimers at Bridgewater, having worked for the firm for 35 years and 25 years respectively. Bar Dea, a retired major of the Israeli military, joined Bridgewater in 2015 and Bertolini joined Bridgewater in 2019 after a previous stint as CEO of Aetna, a top-five health insurer in the U.S.
We can always expect the old guard to give way to the new guard. Dalio set up Bridgewater in his late 20s and is now 73 years old. He has cemented himself as one of America's prominent investors, with regular public speeches and books to match. Unlike many Wall Street pundits though, Dalio has the credentials to back his words up.
It has not been all rosy for Dalio. His hedge fund suffered considerable losses in 2020, a year when many top hedge funds posted big profits. However, it has gradually recovered, posting a 32% return for its flagship fund in this year's first half.
Despite ceding control, Dalio will retain a board seat at Bridgewater alongside 12 other board members. With a reported net worth above $16 billion (Bloomberg Index), we shouldn't worry about how he'll fund his retirement.