VC Firm Andreessen Horowitz Invests $350M In Adam Neumann's New Startup
You may be familiar with WeWork. If not, it's a co-working space company that rode high on hype but crashed…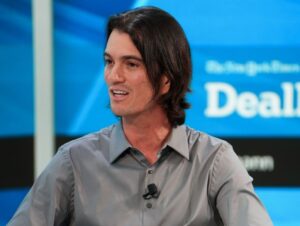 You may be familiar with WeWork. If not, it's a co-working space company that rode high on hype but crashed hard when the time to reveal its candid figures came knocking ahead of an imminent public listing. The company was led by Adam Neumann, a charismatic entrepreneur, and largely financed by SoftBank, the Japanese tech conglomerate.
WeWork was once valued at $47bn (post-money) from a SoftBank investment in 2019 but ended up going public at a $9bn valuation last year, and has a current market value of $3.3bn. Late-stage investors in the company ate heavy losses, especially SoftBank which invested around $10bn. Neumann also lost significant equity but ended up with a $1bn payout after SoftBank stepped in to bail out the company.
Many people would have expected to score an invite to Neumann's induction into the entrepreneurship hall of shame for burning up so much money in a rash way. They'll, however, be disappointed, as Neumann has secured big bucks for another real estate venture.
Flow is the name of Neumann's new venture that he hasn't even formally unveiled. Yet, Andreessen Horowitz (a16z), a prominent venture capital firm, has confirmed an investment in the company. The firm didn't disclose financial details, but a New York Times report says it's $350mn at a valuation of $1bn. Though Neumann hasn't taken the wraps off his new business, a lot of clues exist.
After exiting WeWork with a giant payout, Neumann embarked on a real estate buying spree, amassing majority stakes in over 4,000 apartment units valued at $1bn+, according to the Wall Street Journal. Andreessen Horowitz's blog post confirming its investment in Flow talked about "connecting people through transforming their physical spaces and building communities where people spend the most time." Hence, it seems Neumann wants to replicate what WeWork did with commercial real estate on residential real estate.
Clues point to Flow being a network of branded apartments that members can hop across with relative ease. Neumann's massive apartment portfolio is an effective foundation to kickstart this venture, and the additional funding from Andreessen Horowitz will likely be put to use to add more apartments and fund the administrative operations of the new venture. Save the startup language, and it seems Neumann is building a real estate investment trust.
According to the New York Times, Flow will operate the properties Neumann has bought and also offer its branded rental services to other developers. One highlight of the venture seems to be that the company will offer rent-to-own contracts to customers.
Some may welcome Neumann's new venture with open arms with hopes of delivering something better in the residential real estate market, while others may be skeptical given Neumann's history of exuberant behavior. He may end up purchasing or leasing apartments at over-the-top prices and make it harder for individuals and small-time or big-time landlords to compete.
Besides, Marc Andreessen, the co-founder and top gun at Andreessen Horowitz (the first name provides a clue), was recently in the news for opposing new multi-family development in his posh town of Atherton despite being a vocal proponent of building new housing at a faster pace to counter skyrocketing prices. Andreessen led the investment in Flow and is expected to take a board seat, the New York Times reports.
Flow will reportedly open to customers in 2023. The company bears a similar name to Flowcarbon, another company co-founded by Neumann and funded by Andreessen Horowitz.