Percepto Teams Up With Boston Dynamics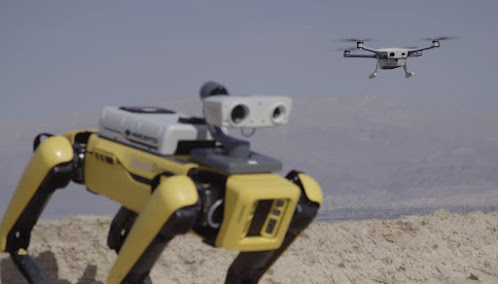 Percepto is an Israeli startup that's developed an autonomous drone for visual inspection of industrial sites. Now, the company has announced that it's integrated its autonomous drone, named Sparrow, with a robot dog made by Boston Dynamics that's known as Spot. 
Together, Sparrow and Spot form a tag team that'll inspect industrial sites whereas Spot is the dog on the ground while Sparrow is the bird in the air. The aim is to assign inspection rounds that are usually done at industrial sites by humans to robots, whereas a human will just need to be in control of the robots as they do their work. 
Working together, the Spot robot will feature equipment for high-resolution imaging and thermal vision to detect issues relayed from the Sparrow drone, which features custom software built by Percepto for visual data management and analysis.
Thanks to a partnership between Percepto and Boston Dynamics, the Israeli autonomous drone startup will offer inspection services paired with the Spot robot to industrial customers. To expand its business, it has just closed a $45 million funding round led by Koch Disruptive Technologies, which is an investment arm of the industrial giant Koch Industries.
Altogether, Percepto has now raised over $70 million in funding to make its drone, now paired with an autonomous robot, a standard for industrial inspections. The video embedded below gives an idea of how that'll work;