Apple Unveils New Gadgets, "Buy Now, Pay Later" Service
Tech giant Apple Inc (NASDAQ: AAPL) unveiled some new products at the latest iteration of its annual Worldwide Developers Conference…
Tech giant Apple Inc (NASDAQ: AAPL) unveiled some new products at the latest iteration of its annual Worldwide Developers Conference (WWDC). The products include an all-new MacBook Air laptop, an updated MacBook Pro laptop, a new (M2) chipset, and a new "buy now, pay later (BNPL)" service.
M2 Chipset
The company unveiled the M2 chipset designed for Mac computers that can handle considerably more workloads than its predecessors, the M1, M1 Pro, M1 Max, and M1 Ultra. Apple claims it delivers an 18% faster CPU performance and 35% faster GPU performance than the original M1.
According to Apple, M2 has 100Gbps of memory bandwidth, 50% more than the M1. In summary, expect significantly better performance with its latest chipset.
MacBook Air
Apple unveiled a new addition to its iconic lineup of MacBook Air laptops. The newest version has a larger 13.6-inch display, a 1080p front-facing camera, a four-speaker sound system, and up to 18 hours of battery life. It has the new M2 chip, so expect considerably better performance than its predecessor.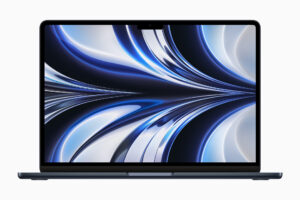 The new MacBook Air measures 11.3 mm thin and weighs 2.7 pounds. The list price is $1,199 and it'll become available next month.
MacBook Pro
The tech giant unveiled an updated version of its MacBook Pro laptop with the M2 chip. Its main feature is the faster performance enabled by the new chipset. The list price is $1,299 and it'll become available next month.
Buy Now, Pay Later (BNPL)
Apple didn't unveil only gadgets but also debuted a new product for its growing services business. The company will add a BNPL feature built into Apple Pay that'll come with the iOS 16 software update.
The new feature, named Apple Pay Later, will let users (in the US only) split the cost of an Apple Pay purchase into four equal payments spread over six weeks, with no interest and fees. It represents noteworthy competition in the American BNPL market dominated by the likes of Affirm and Klarna, both of whom are, as of late, wrestling with investor pressure, reduced e-commerce growth, and rising interest rates.
Apple is entering the market at a time of turbulence. However, with an already large user base to lean on (40 million+ Apple Pay users in the US) and deep pockets to weather any storm, the company is well-positioned to succeed.
Affirm's stock (NASDAQ: AFRM) closed down 5.50% on Monday following the announcement of Apple's BNPL service. The stock is down 76% year-to-date and currently has 13% of its public float shorted.
Klarna is a privately-held company that recently laid off 10% of its workforce. It's been a stormy ride for BNPL services this year.
Apple's stock closed up 0.5% on Monday. The company has a current market capitalization of $2.37 trillion.