Eko Scores $65M Series C
Photo credit: Eko

Eko, an Oakland, California-based medical device startup whose core product is a digital stethoscope, has raised $65 million in Series C funding from a group of investors including Questa Capital, Highland Capital Partners, Artis Ventures, NTTVC, and 3M Ventures, which is the corporate venture capital arm of healthcare and consumer goods giant 3M. The majority of the round came from Questa and Highland while the rest of the investors chipped in smaller sums.
Eko says it'll use the new funding to expand in-clinic use of its platform, which consists of a digital stethoscope that's paired with an artificial intelligence-powered monitoring platform for heart and lung conditions. Eko has gotten approval from the U.S. Food and Drug Administration (FDA) to use AI analysis algorithms that help detect heart rhythm abnormalities and structural heart disease. The company has the ultimate goal to make AI analysis the standard for physical examinations where stethoscopes are used.
With its new funding, Eko has now raised a total of nearly $100 million in outside funding since its inception. The $65 million Series C comes on the heels of collaborations that Eko announced this year with 3M, the healthcare and consumer goods giant, and AstraZeneca, the pharmaceuticals giant. The collaborations centered on the development of digital health tools for the screening of cardiovascular diseases.
Under the terms of Eko's new funding round, the company is getting new board members who are representatives from Highland Capital Partners and Questa Capital, the two firms that led the round. By names, Corey Mulloy from Highland and Ryan Drant from Questa Capital are getting board seats at Eko.
Eko's digital stethoscope comes in handy in the growing adoption of virtual healthcare around the globe. In July last year, the company released a product named 'Eko home' that enables patients to conduct monitoring of cardiac function using ECG and heart sounds at home while the resulting data is sent to doctors in any location.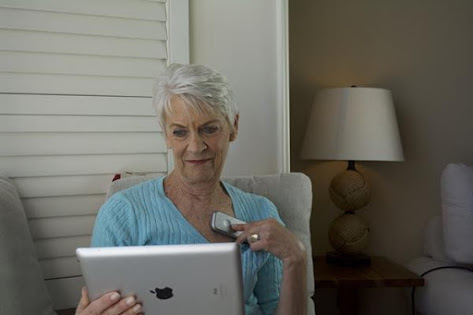 'Eko Home'.
 Photo credit: Eko
With the product, Eko hopes to improve the field of virtual care that's been particularly boosted by a coronavirus pandemic wherein people have begun visiting hospitals for in-physical screening at much lesser rates.