Tech-Tainment Luminaries To Note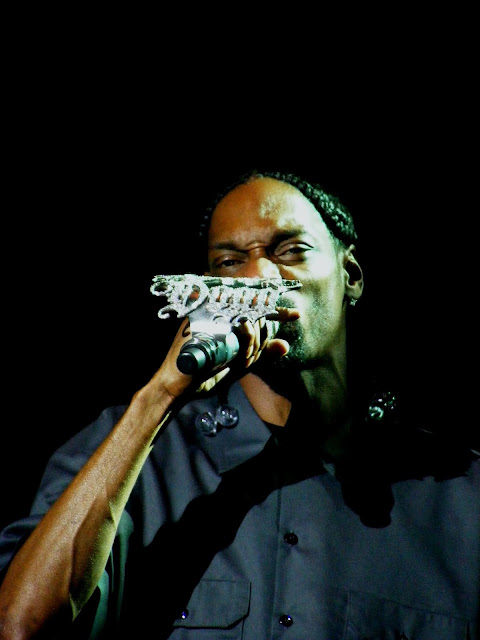 Rapper Snoop Dogg. Best known for his music, he's however, an investor in several startups.
Photo by: Man Alive! | Flickr, under Creative Commons license
Technology and entertainment are undoubtedly intertwined. Without tech, there likely won't be entertainment and without entertainment, tech may as well be boring. The entertainment industry is very large, being one that's
worth more than $700 billion
in the U.S. alone. Such entertainment encompasses many fields, including movies, TV subscriptions, theater revenues, ticketing, and the likes. There's also the field of gaming, which is itself worth tens of billions of dollars on a global scale. With the entertainment industry being so large, it's no surprise that it has produced many storied luminaries ranging from movie directors and producers to the actors/actresses who star in their movies, game developers, music label owners, video streaming companies and the likes.
In this article, we're presenting ten of such luminaries who have clinched noteworthy successes in the field that intersects entertainment and technology. These people include movie producers who have built their work on the foundation of technological progress, tech industry veterans who have financed hit movies, persons who have founded companies that account for a sizeable slice of the entertainment industry and so on.
They are;

1. Thomas Tull: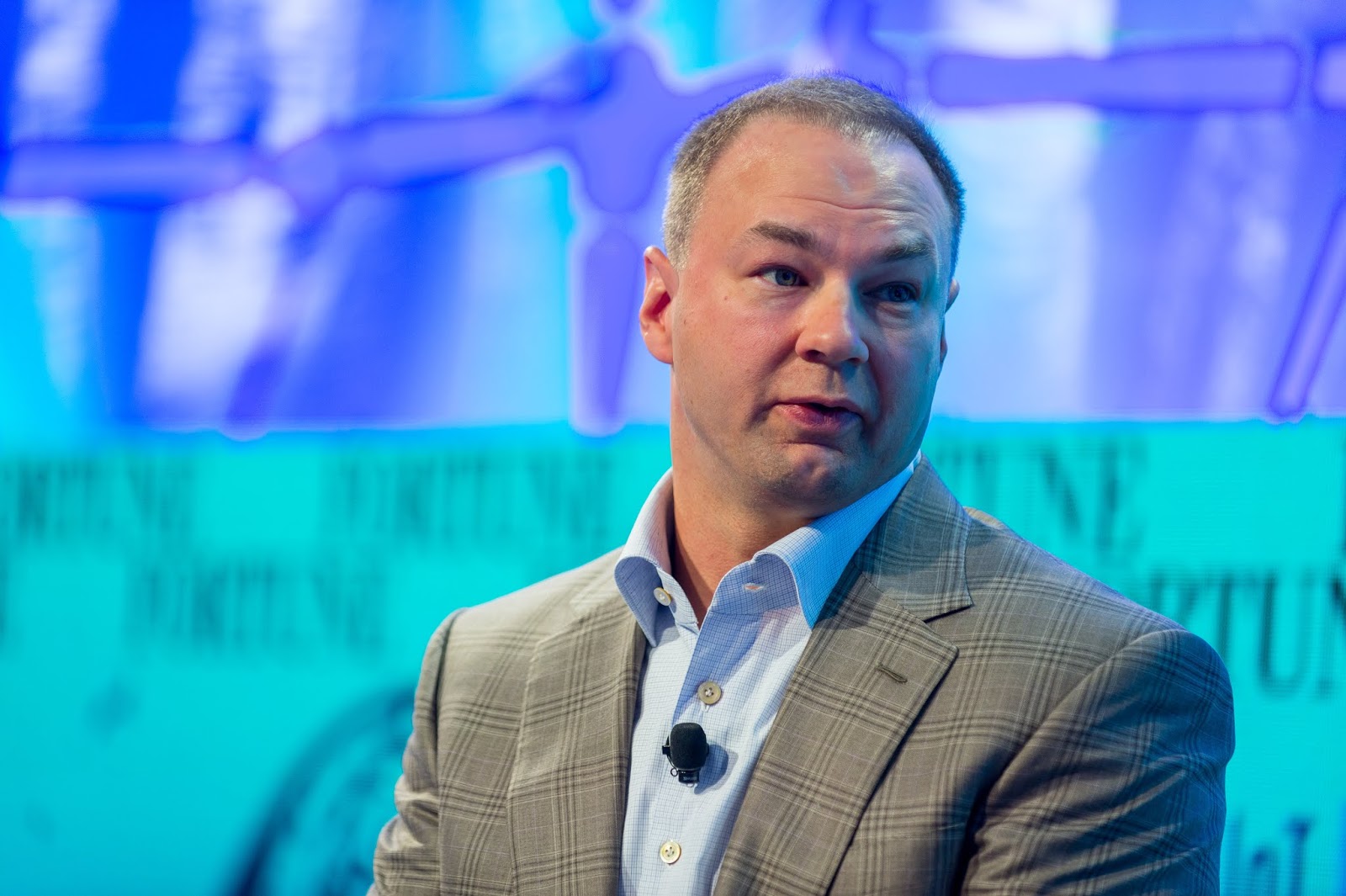 Legendary Entertainment founder Thomas Tull.
Thomas Tull is the founder of Legendary Entertainment, a film production company that has financed and produced many hits such as Jurassic World, The Dark Knight, Interstellar, John Wick, Straight Outta Compton, Batman Begins and The Hangover. Tull founded Legendary Entertainment two decades ago after raising half a billion dollars from private equity firms to finance movies. In subsequent years after its founding, Legendary Entertainment secured deals to co-finance and produce many films, a move that gave the company bountiful rewards. Legendary Entertainment co-financed and co-produced many Hollywood hits and became, in retrospect, a legend in the movie industry.
As a standalone company, Legendary Entertainment secured funding from firms like Accel Partners, SoftBank, Waddell & Reed, and Golden Harvest. In 2016, almost two decades after its founding, Chinese conglomerate Wanda Group entered a deal to acquire Legendary Entertainment for $3.5 billion. The acquisition marked the largest purchase of an American media company by a Chinese firm. Following the close of the acquisition, Tull stepped down from his leadership positions at Legendary Entertainment. He subsequently formed Tulco, a holdings company with investments in several firms including augmented reality startup Magic Leap.
2. Larry Ellison:
Larry Ellison may be best known for founding software giant Oracle but he's also a big player in the entertainment industry. He has backed Skydance Media and Annapurna Pictures, two successful movie studios that happen to be founded by his children. Notably, Skydance Media just last month raised funding that valued it at $2.3 billion. Skydance just like Legendary Entertainment has secured deals to co-finance and co-produce many movies. Some of its hits include Star Trek Beyond, World War Z, Terminator Genisys, G.I. Joe: Retaliation, True Grit and Mission: Impossible – Rogue Nation.
Likewise, Annapurna Pictures has co-produced, co-financed and distributed many movies including hits like Zero Dark Thirty, American Hustle, Sausage Party, The Grandmaster and Booksmart. Annapurna also has a video game publishing division. In addition to backing movie studios, Ellison has also featured in one major movie, Iron Man 2.
Annapurna Pictures, although having produced several hits, ran into financial issues sometime last year. Ellison stepped in to save the company, which is notably headed by his daughter, Megan Ellison.
3. Meg Whitman: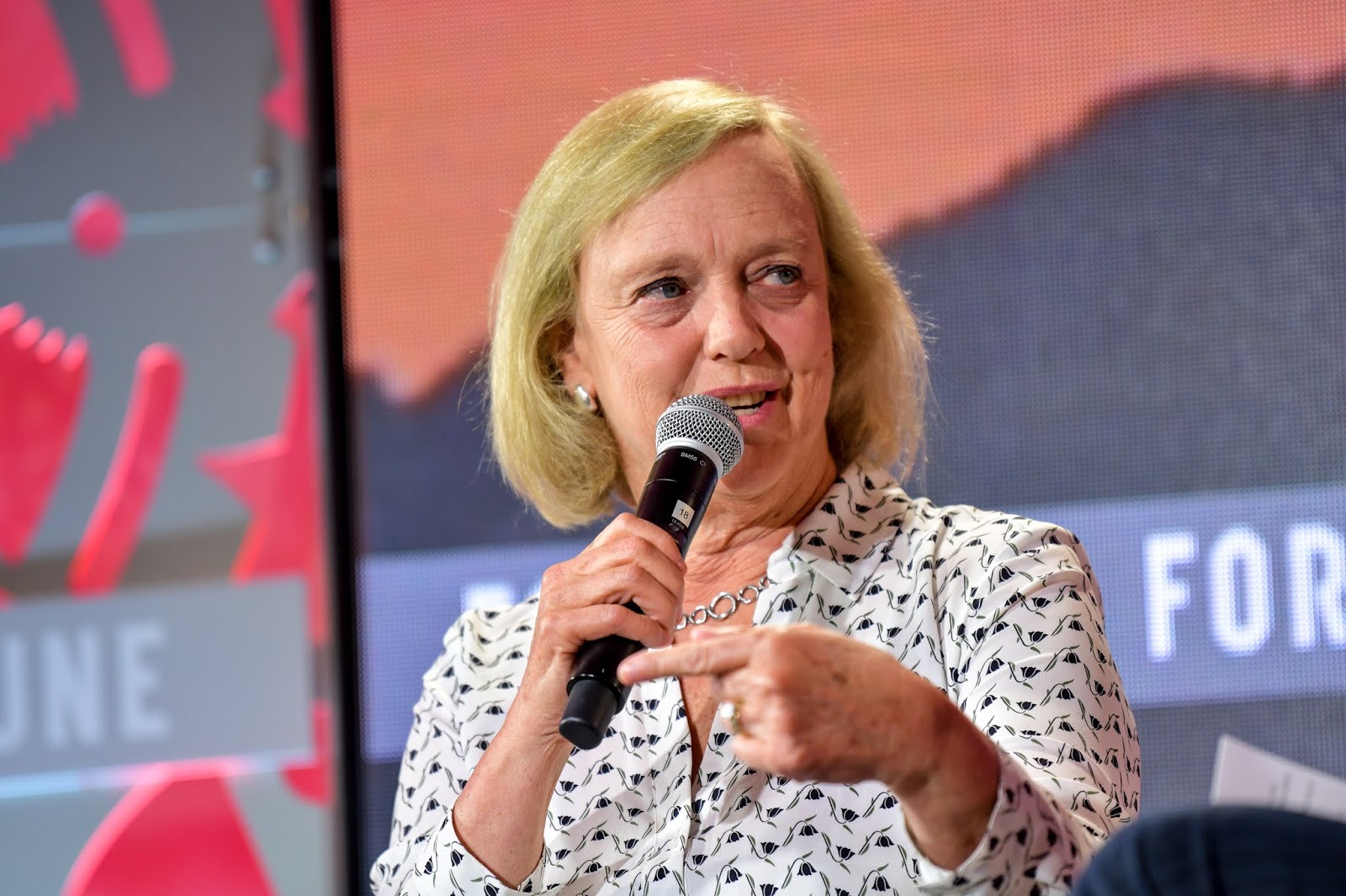 Quibi CEO Meg Whitman.
Meg Whitman is the CEO of Quibi, a video streaming company founded by Hollywood veteran Jeffrey Katzenberg. Quibi is yet to launch its service although that is scheduled to happen soon, apparently in a few days time (from this article's writing). Quibi is a video streaming service that'll offer original short-form video content produced and starred in by many Hollywood bigwigs. The short-form videos are termed "quick bites" hence the name Quibi. Entertainment veterans who have secured content deals with Quibi include rapper Drake, Steven Spielberg, Liam Hemsworth, Chrissy Teigen, Chance the Rapper, Sophie Turner, Jennifer Lopez, Keke Palmer, Idris Elba, Reese Witherspoon, Trevor Noah and Usher among others. Quibi has managed to secure an outstanding $1.75 billion in funding ahead of its launch.
Before taking the CEO job at Quibi, Whitman was already a seasoned tech veteran who held previous CEO roles at eBay and HP. She was also said to have been shortlisted for the CEO job at Uber back in 2017 when the ride-hailing company's board was in search of a new leader. At eBay, she oversaw the company's expansion from 30 employees and $4 million in annual revenue to more than 15,000 employees and $8 billion in annual revenue.
Whitman currently holds a board seat at file hosting company Dropbox.
4. Reed Hastings: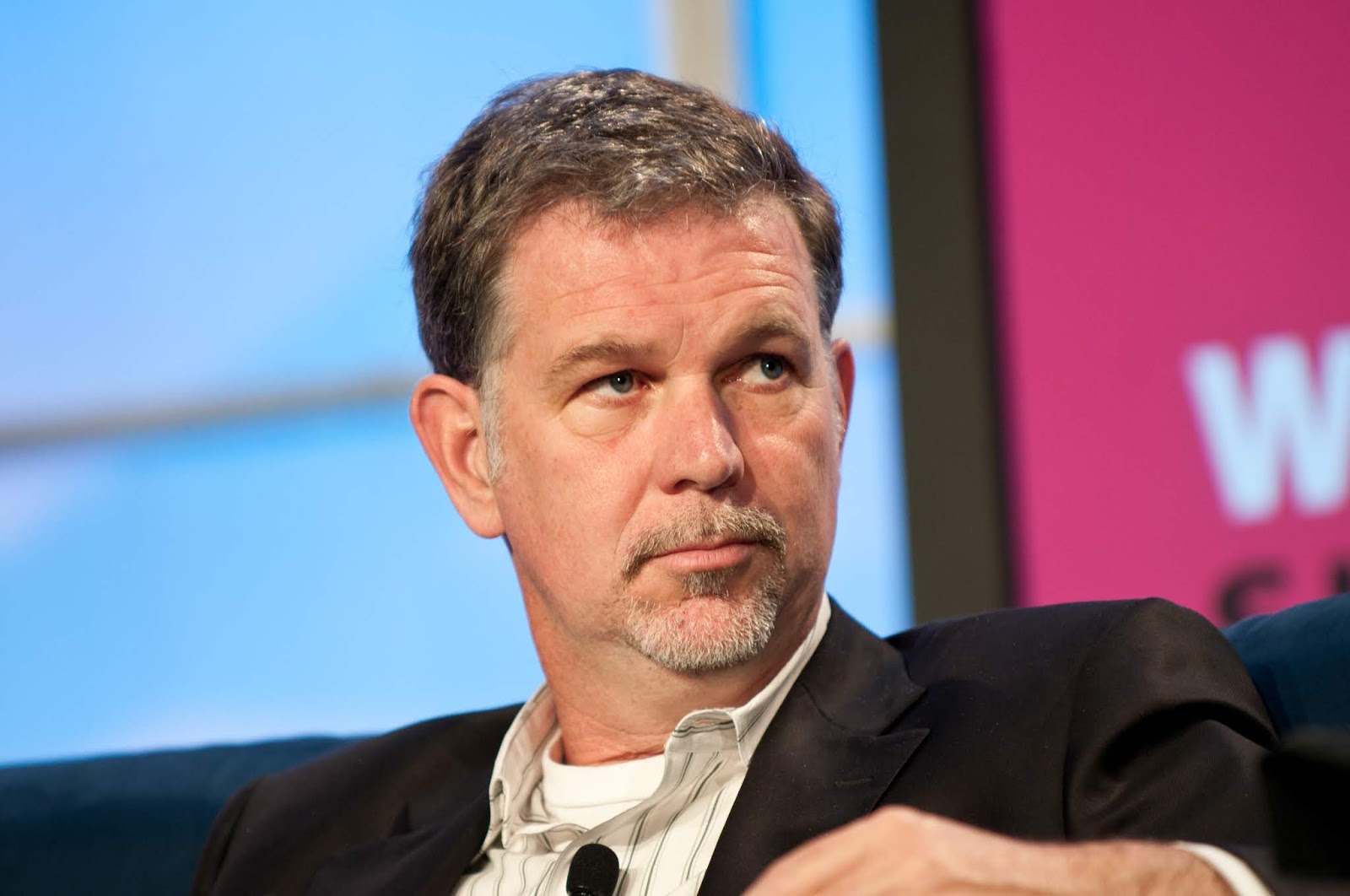 Netflix CEO Reed Hastings.

Reed Hastings is the founder and CEO of popular video streaming service Netflix. Netflix has come a long way from a DVD rentals company to one of the biggest incumbents in the Hollywood industry. Netflix has spent billions of dollars to produce original content for its streaming service, including a whopping $15 billion in 2019 and $12 billion the year before. This year, it's projected to spend more than $17 billion on content. Hastings co-founded Netflix way back in 1997. The company's initial business was selling and renting DVDs by mail before Hastings decided to abandon the selling part and focus solely on renting. Netflix's turning point was when it introduced streaming media in 2010. Since then, the company has clinched outstanding success on that part, with more than 167 million subscribers worldwide.
Netflix began producing its own content in 2012 and has expended billions of dollars doing so since that time. Alongside increased content spending, Netflix has also grown its revenue; $20.1 billion last year, $15.8 billion the year before, $11.7 billion in 2017 and $8.8 billion in 2016. Netflix has produced many hit movies and, in turn, earned major awards for them.
5. Steven Spielberg: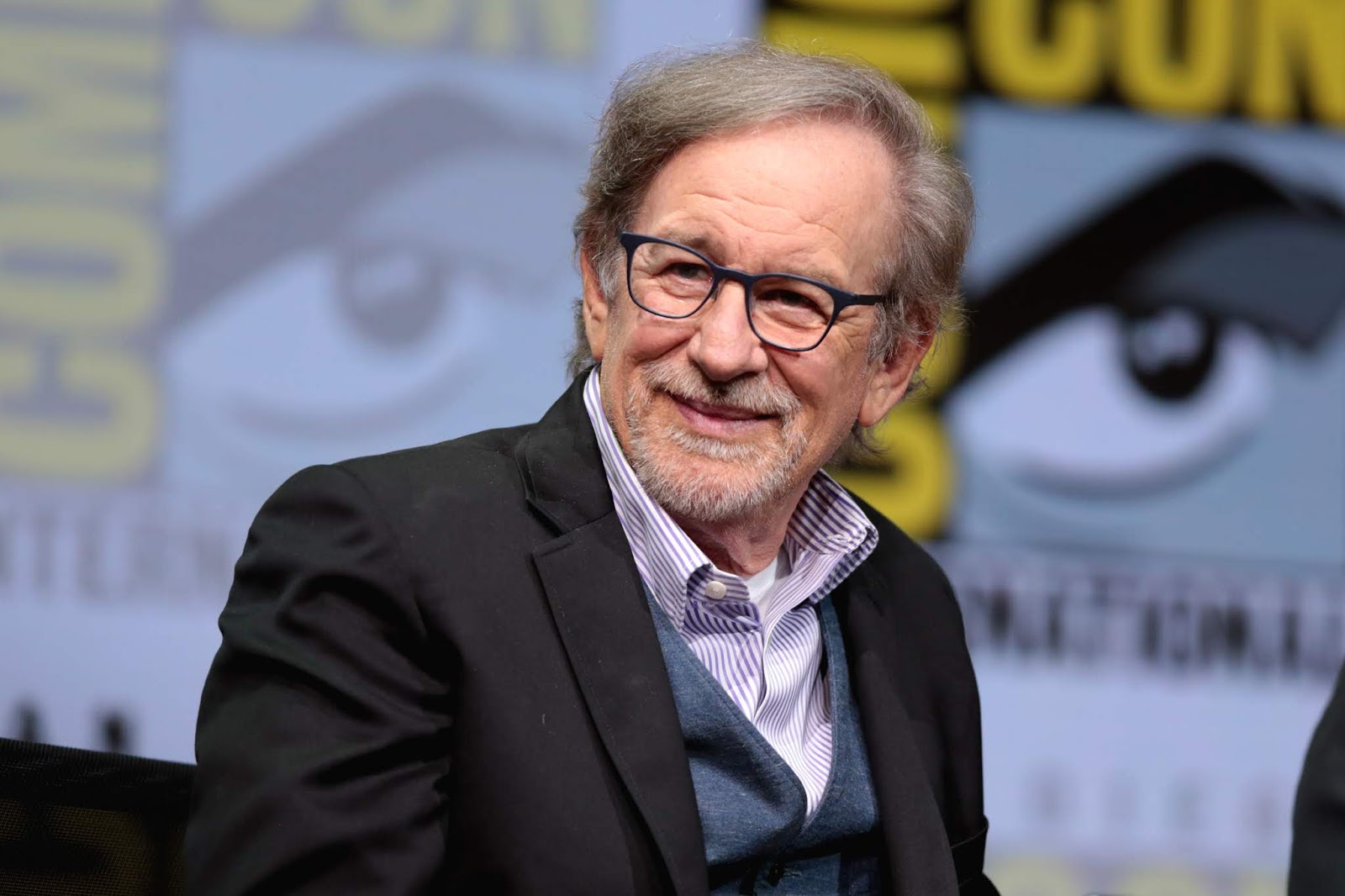 Filmmaker Steven Spielberg.
Steven Spielberg may need no introduction thanks to being a famed movie director and producer. Spielberg is nothing short of a legend in the Hollywood industry, where he's the highest-grossing film director with more than two-dozen titles to his name. Spielberg's storied career began at Universal Studios, where he earned a contract to direct movies and having been the youngest director to sign a long-term deal with a Hollywood studio as of signing time. He furthered his career with several movie studios including Amblin Entertainment and DreamWorks Pictures which he co-founded. Among his movies include mega-hits like Saving Private Ryan, Indiana Jones, Jurassic Park, Jaws, E.T. the Extra-Terrestrial and War of the Worlds.
DreamWorks Pictures, which Spielberg co-founded with Hollywood veterans Jeffrey Katzenberg and David Geffen, produced or distributed more than ten films that grossed over $100 million each. After a complete sale that came through in several segments, the three Hollywood veterans have since gone on to spearhead independent projects. Spielberg has continued to produce movies while Katzenberg founded short-form video streaming service Quibi. Geffen, who also had huge success in the music industry and not just the movie industry, seems to be focused on philanthropy and personal activities as of late.
Spielberg's most recent major movie is Ready Player One, a science fiction adventure title that grossed north of $500 million at the box office.
6. Robert Simonds: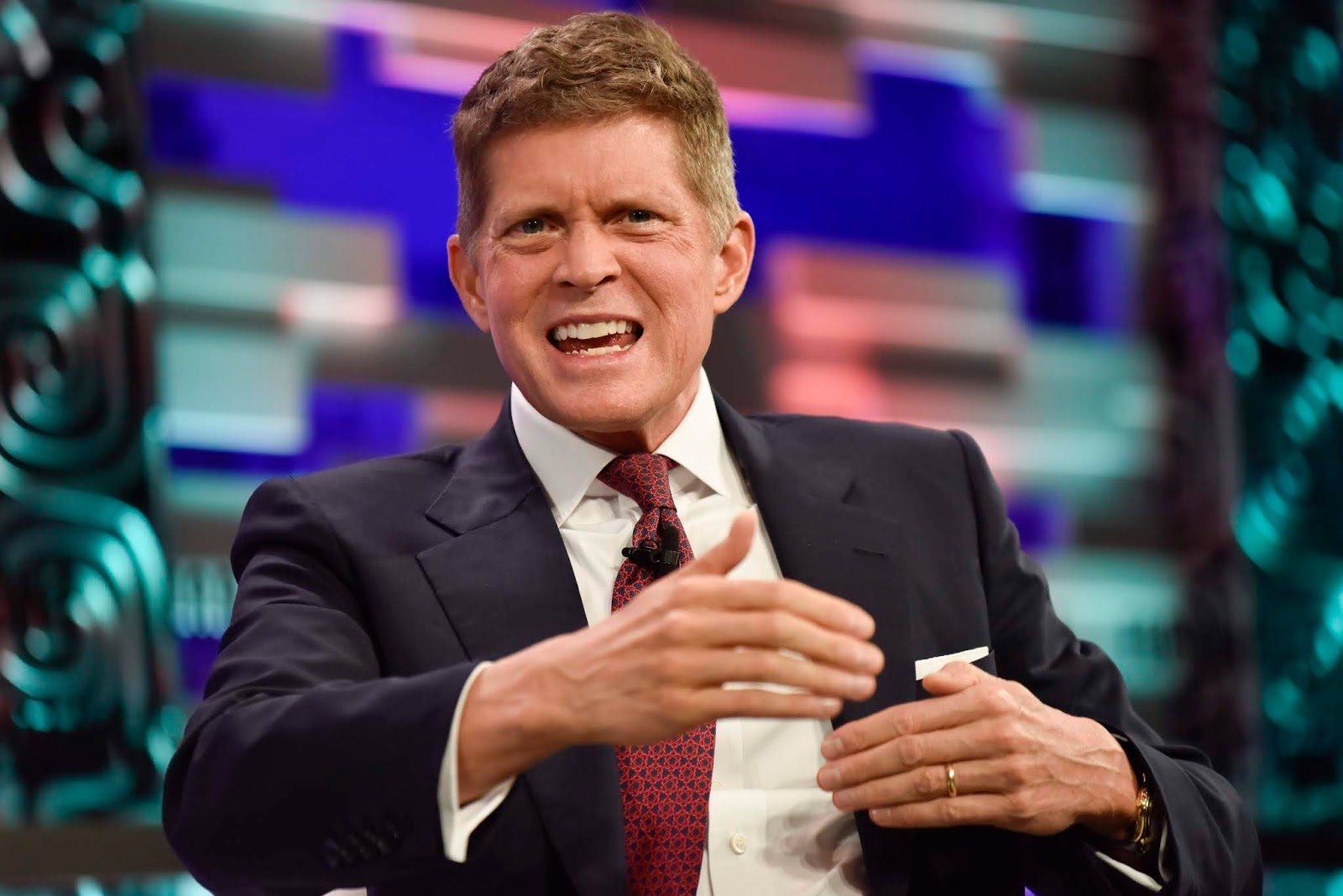 STX Entertainment CEO Robert Simonds.
Robert Simonds is an accomplished movie producer and entrepreneur that notably co-founded and holds the position of CEO at STX Entertainment, a media company that creates, produces, distributes, finances and markets movies. STX has raised hundreds of millions in equity and debt funding to finance and produce movies and is said to be valued at north of $1 billion by private investors. STX had made plans to go public, having already filed a draft filing for a public offering on the Hong Kong Stock Exchange. The IPO plans were later halted, however.
Before co-founding STX Entertainment in 2014, Simonds was a successful independent movie producer with more than 30 films that grossed over $6 billion collectively at the box office. His movies featured Hollywood stars like Adam Sandler, Dave Chappelle, John Travolta, Jackie Chan, Chadwick Boseman and Reese Witherspoon.
Simonds has served as both chairman and CEO at STX since its founding. The company's leadership team also includes entertainment dignitaries like Tom McGrath (ex-Viacom COO), Andrew Warren (ex-Discovery Communications CFO), David Kosse (ex-Film4 CEO) and Punk'd creator Jason Goldberg.
7. Daniel Ek: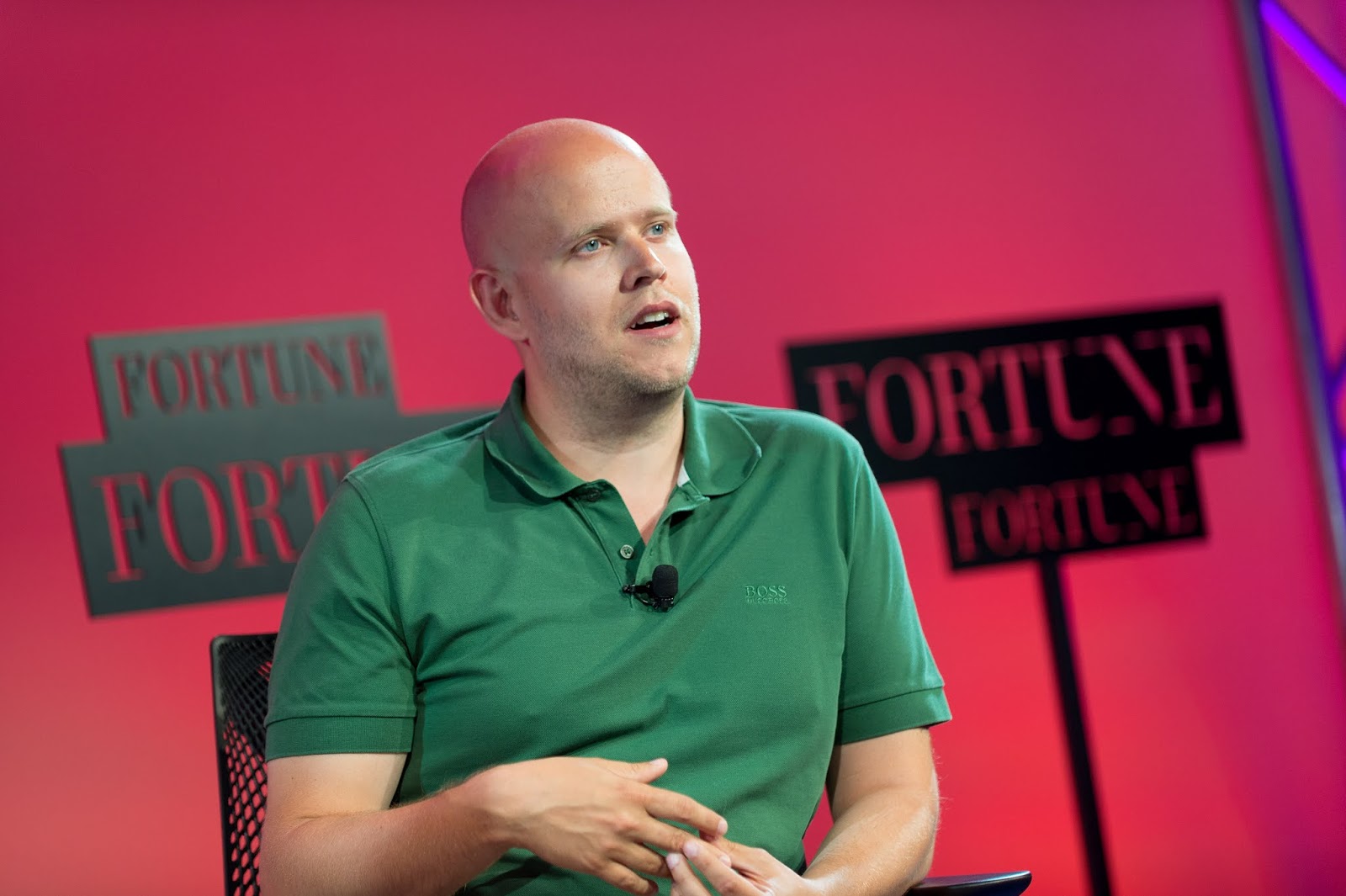 Spotify CEO Daniel Ek.
In the entertainment industry, no one can ignore the impact of Spotify, a music streaming service used by more than 100 million paying users and much more non-paying users. Many may know of Spotify but not many know of Daniel Ek, the founder of the music streaming service. Ek is a Swedish entrepreneur who is known to have launched several businesses starting from as young as age 13. He had already founded and exited a few businesses before launching Spotify in 2008. Alongside another co-founder, Martin Lorentzon, Ek built Spotify into the widely used streaming service it is today. However, the journey to the top wasn't a cakewalk. Spotify initially faced opposition from incumbent music record labels and fought a lot of obstacles to become relevant. Even now, Spotify still has some sort of irking with music labels, evidenced by the numerous lawsuits the company has regularly battled.
Spotify is one of the biggest tech success stories, even more, one of the biggest to come out of Sweden. The company went public in April 2018 after having raised north of $2 billion in funding as a private company. Currently (as of writing), the company's market capitalization hovers around $22 billion. Spotify recorded $7.4 billion in revenue last year compared to $5.9 billion the year before. The company currently employs more than 4,000 people.
As part of Spotify's growth strategy, Ek has ventured into the podcasts world and secured podcast deals with many celebrities. He has led two big podcast acquisitions, first the simultaneous acquisitions of Gimlet Media and Anchor for a combined $340 million and then the recent acquisition of The Ringer, a company chaired by popular sports analyst Bill Simmons, for nearly $200 million.
8. Shane Smith: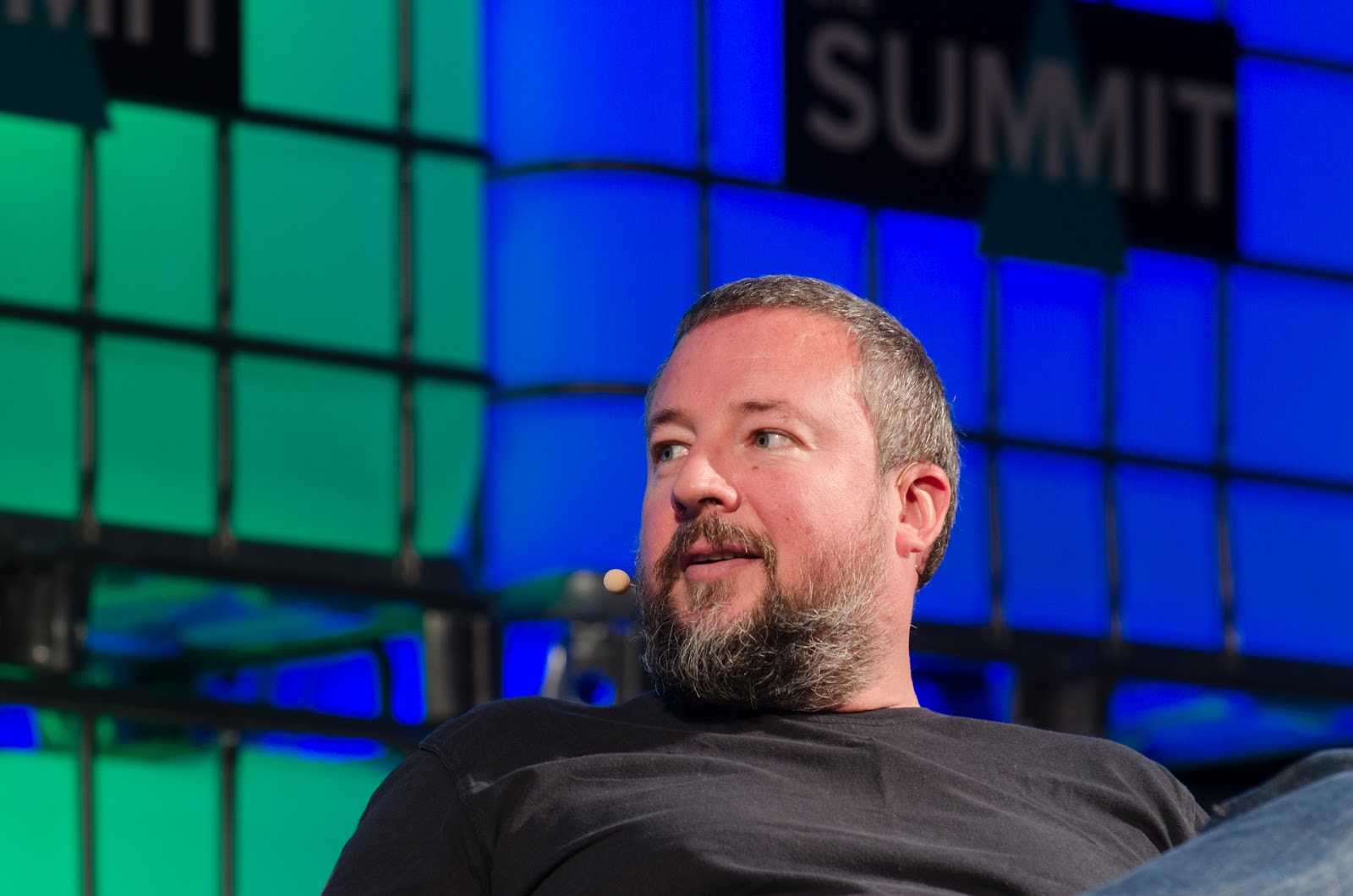 Vice Media founder Shane Smith.
Picture by Dan Taylor / Heisenberg Media, under Creative Commons license
Shane Smith is the founder of Vice Media, a New York-based digital media powerhouse that's known for its eccentric journalism. Vice has several media divisions, including online content verticals and web series, a news division, a film production studio, a record label and an ad agency among others. The company has been famed for some of its productions which include documentaries on topics ranging from war in some African countries to gang activities in several regions, labor camps originating from North Korea, brutal wars stemming from terrorism in some countries, and the likes. Vice documentaries typically feature raw content that's hard to find on similar documentaries produced by others. Interviews with criminals, rogue fighters and drug dealers are uncommon in its productions. Such eccentricity is what's made Vice stand out in a world of so many media houses.
Vice Media has raised about $1.7 billion in debt and equity funding since its inception (Crunchbase data). The company was once valued as high as $5.7 billion by investors but has however seen its valuation drop amid growth and fiscal issues that affected the general digital media industry. In fact, Disney, which had invested $400 million in Vice Media and gotten an additional stake after acquiring 21st Century Fox last year (Fox had earlier invested in Vice), wrote down the value of its Vice stake by up to $510 million. According to an annual filing in 2018, Disney held an 11% stake in Vice Media.
Things aren't all bad for Vice Media however as the company still clinches hundreds of millions in annual revenue. Its main issue lies in reaching profitability, a goal the company has long fought for.
Shane Smith stepped down as Vice's CEO in 2018. He currently occupies the position of Executive Chairman at the company.
9. Pony Ma: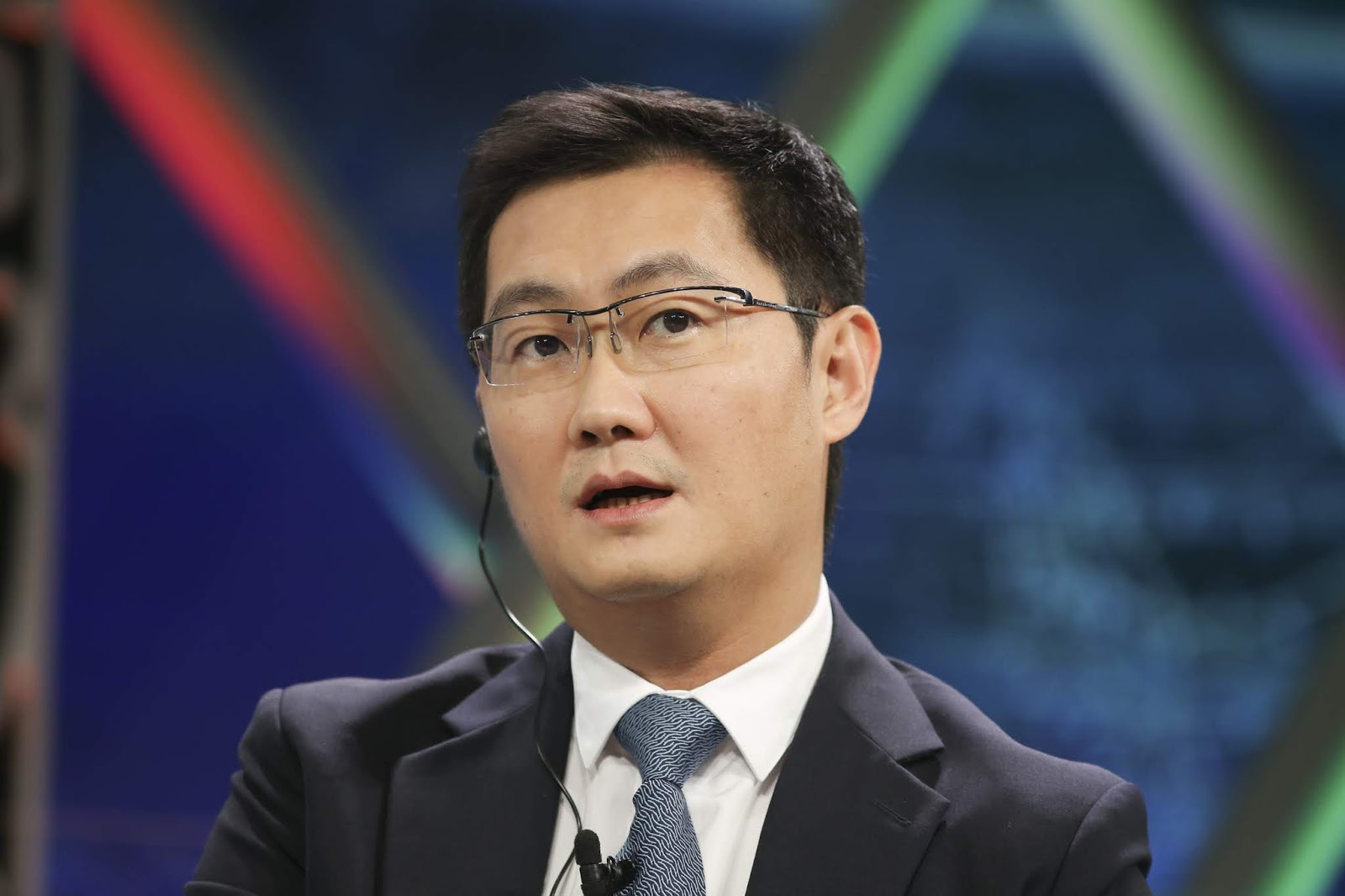 Tencent CEO Pony Ma.
Pony Ma, or Ma Huateng as he's known, is a co-founder and CEO of Tencent, a Chinese internet and entertainment giant. Tencent is one of the biggest Chinese tech companies, with annual revenues in the tens of billions. To say Tencent is anything short of a powerhouse will be a disservice. The company's products include top social networks, music streaming services, e-commerce apps, mobile games, payment services and web portals in the Chinese market. Tencent is known as an entertainment powerhouse thanks to its dominance in the Chinese online entertainment industry. In addition to being a top entertainment company, Tencent has also invested billions into other entertainment firms and formed partnerships to ensure its top spot in the industry. Among companies it has backed include Spotify, Universal Music Group, Epic Games (makers of Fornite), Douyu TV, Kuaishou, Skydance Media and STX Entertainment.
Tencent notably owns stakes in numerous gaming companies that are responsible for super-hits like Fortnite, PUBG, Clash of Clans, World of Warcraft, Watch Dogs, Assasin's Creed and the Call of Duty franchise. It outrightly owns Riot Games, the game studio behind the mega-hit League of Legends. A core gaming company at heart, Tencent's outsize influence on the entertainment scene can't be overlooked.
Pony Ma has led Tencent since its founding in 1998.
10. Gabe Newell: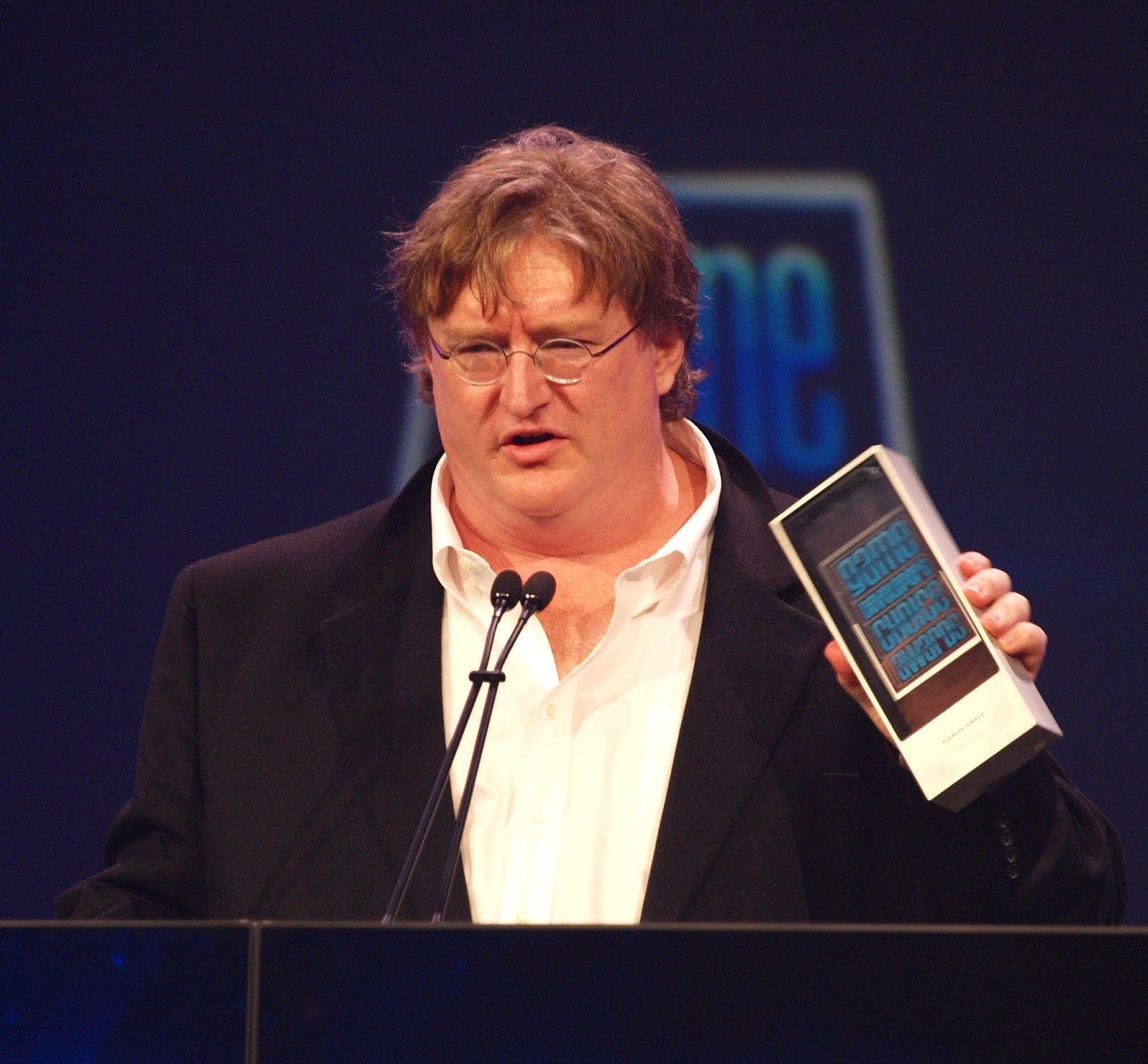 Valve CEO Gabe Newell.
image: Official Game Developers Conference (GDC) | Flickr, under Creative Commons license
Gabe Newell is a famed computer programmer and businessman best known for co-founding Valve, a video game developer and distributor. Valve is known for hit games like Half-Life, Dota, Portal, and Counter-Strike. It's also the owner of Steam, a widely-used video game distribution channel. Newell launched Valve in 1996 alongside another co-founder, Mike Harrington. Before founding Valve, he reaped a sizeable monetary fortune as an early employee of Microsoft, where he worked on some of the early Windows operating systems.
Word has it that Newell's inspiration to launch Valve stemmed from becoming convinced that video games were the future of entertainment after playing popular games Doom and Quake in the mid-1990s. Both games happened to be developed by id Software, a storied video game developer that counts legendary programmer John Carmack as one of its founders. Valve was launched in 1996 and released its debut product, a first-person shooter PC game named Half-Life two years later. The company saw huge success beginning from that moment and has scaled to billions of dollars in annual revenue without ever taking external investment. While Valve doesn't release official revenue figures, it's estimated to have earned $4.3 billion in sales in 2017 alone. Even with billions in estimated revenues, Valve is known to employ just a few hundred people. At one point (and probably till now), Valve was said to have been the most profitable company per employee count in the whole of the U.S.
Valve hasn't stopped at just developing games. The company has also ventured into gaming hardware, having released a virtual reality (VR) headset, the Valve Index, in June last year. Valve also released a line of prebuilt gaming computers called the Steam Machine in 2015.
Bonus (11). Jeffrey Katzenberg: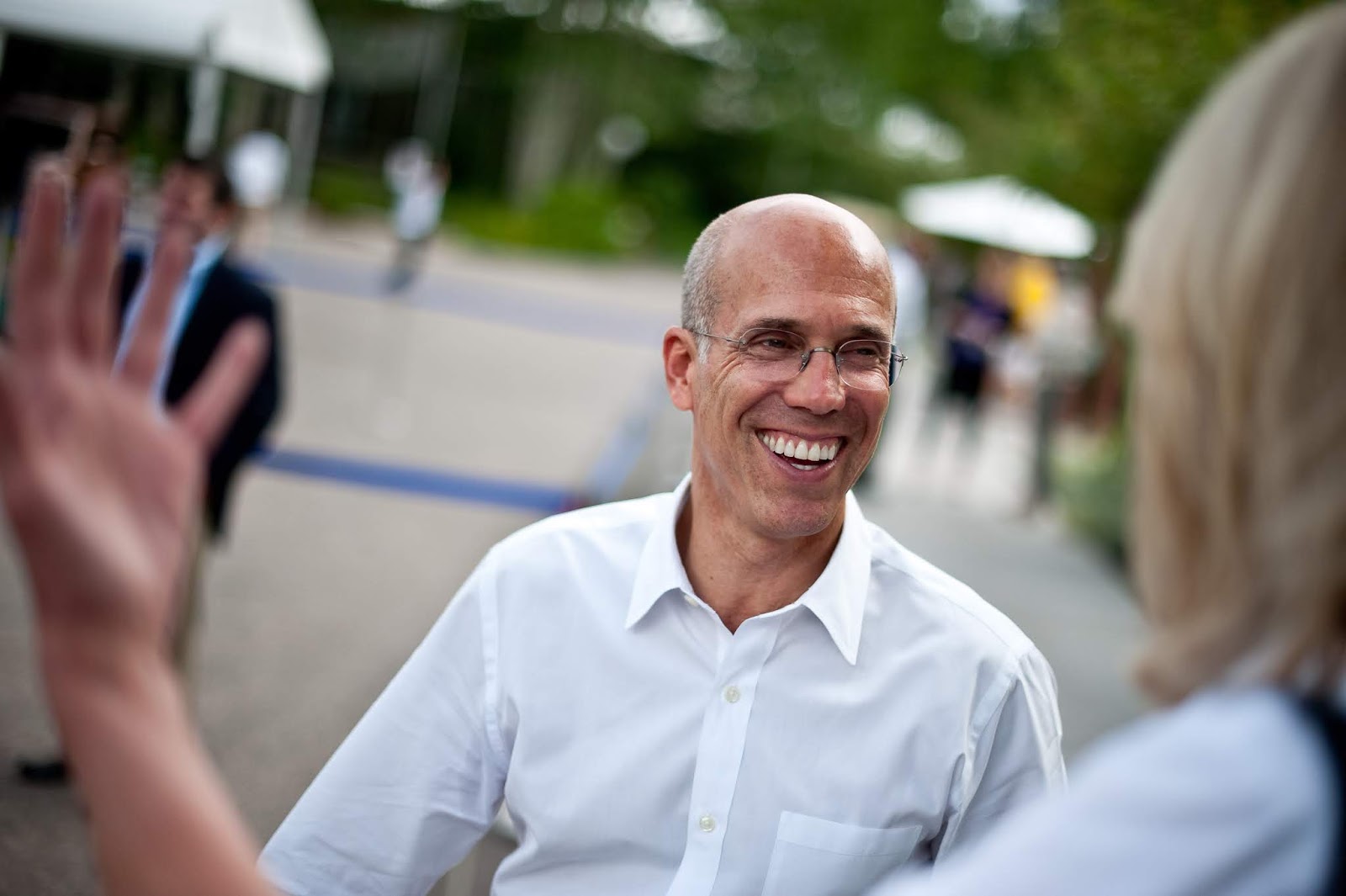 Quibi founder Jeffrey Katzenberg.
Jeffrey Katzenberg is a storied filmmaker who served as chairman of Walt Disney Studios from 1984 to 1994. During his tenure, Walt Disney Studios put more effort into its live-action and animation divisions and as a result released some of its biggest hits including The Little Mermaid, Alladin, and The Lion King. After departing Disney, he co-founded DreamWorks Pictures alongside Steven Spielberg and David Geffen. Katzenberg headed DreamWorks' animation division and oversaw the production of hit titles like Madagascar, How to Train Your Dragon, Kung Fu Panda, and Shrek. He departed DreamWorks in 2016 and now heads Quibi, a short-form video streaming service he founded.
Meg Whitman (no 2 on this list) holds the position of CEO at Quibi. Alongside heading Quibi, Katzenberg also founded and heads WndrCo, an investment holdings company that invests in and helps build media and tech startups. WndrCo, although still relatively new, has invested in numerous companies already. Its portfolio includes Quibi, Ubiquity6, PlayVS, Jawbone Health, Lyric, Axios, Ambient.ai, and AnchorFree.
Another one:) 12. Dr. Dre and Snoop Dogg:
Dr. Dre, real name Andre Young, and Snoop Dogg, real name Calvin Broadus Jr., are best known as rappers. Undeniably, they're storied entertainment veterans but they also happen to be active in the tech scene, something many may not know of. Dr. Dre in retrospect seems more popular after having sold Beats Electronics, a headphone and audio accessories maker he co-founded, to Apple. Dr. Dre founded Beats alongside another entertainment veteran by name of Jimmy Iovine. Beats Electronics was best known for its Beats by Dr. Dre lineup of headphones which became a sort of status symbol after being aggressively promoted by celebrities globally. After having raised hundreds of millions in venture funding, Apple swooped in to acquire the company in 2014. The acquisition price amounted to $3.2 billion.
Just like Dr. Dre, Snoop Dogg has also ventured away from core entertainment into business. He founded a venture capital firm, Casa Verde Capital, which launched with a $45 million debut fund in 2018. Casa Verde Capital primarily invests in cannabis startups, an area he's known to be well versed on (no pun intended). Among Casa Verde's investments include Oxford Cannabinoid Technologies, Eaze, Dutchie, Trellis, and Merry Jane. Snoop Dogg has also personally invested in Swedish payments company Klarna.