Uber And Hyundai Debut Flying Taxi Concept
Hyundai's "S-A1" air taxi concept.

image: Hyundai
At this year's Consumer Electronics Show (CES), Korean auto manufacturer Hyundai and Uber unveiled a flying car concept that's aimed for use in the "Uber Elevate" initiative, an initiative that's targeted at aerial ridesharing with custom air taxis made by partners to enable that. Hyundai is the first automaker to join Uber Elevate, whose previous partners were all electric vertical takeoff and landing (eVTOL) aircraft manufacturers. Uber aims to launch an aerial ridesharing network by 2023, and has already partnered with seven aircraft makers to enable that.
Hyundai's new concept air taxi vehicle is dubbed "S-A1" and has specifications similar to that of previous electric vertical takeoff and landing (eVTOL) aircraft unveiled by other Uber Elevate partners. It'll be 100% electric, be piloted initially but with plans to later make them autonomous, and is designed with four passenger seats to allow riders board and disembark easily. It's designed to take off vertically, transition to wing-borne lift in cruise, and then transition back to vertical flight to land, hence the 'eVTOL' name.
The concept air vehicle is designed for a cruising speed of up to 180 miles/hr (290 km/hr), a cruising altitude of about 1,000-2,000 feet above ground level, and to fly for up to 60 miles (100 km) on full charge. Hyundai claims the air vehicle will "require about five to seven minutes" for recharging.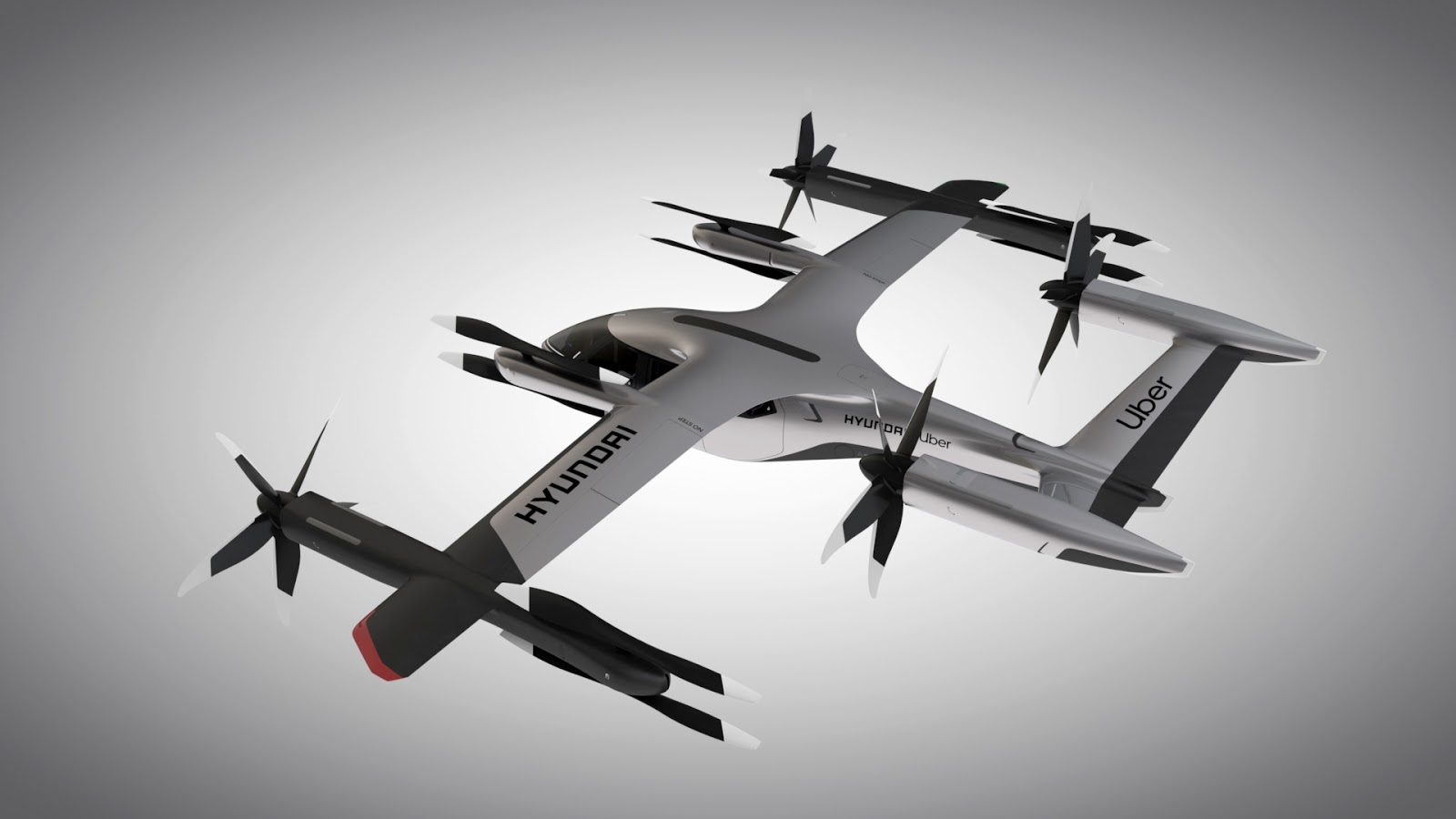 image: Hyundai
image: Hyundai
Seating design.

image: Hyundai
Under their partnership, Hyundai will take charge of producing and deploying the air vehicles while Uber caters to airspace support services, connections to ground transportation, and customer interaction through an aerial ride-sharing network. Both companies are then teaming up to develop infrastructure concepts that'll support take-off and landing for the concept air vehicles.
"Hyundai is our first vehicle partner with experience of manufacturing passenger cars on a global scale. We believe Hyundai has the potential to build Uber Air vehicles at rates unseen in the current aerospace industry, producing high quality, reliable aircraft at high volumes to drive down passenger costs per trip," Eric Allison, head of Uber Elevate, said in a statement. "Combining Hyundai's manufacturing muscle with Uber's technology platform represents a giant leap forward for launching a vibrant air taxi network in the coming years".
Hyundai and Uber held an official ceremony at the Consumer Electronics Show to mark their partnership. In attendance were Uber CEO Dara Khosrowshahi and Hyundai Executive Vice Chairman Euisun Chung.