American Drone Maker Skydio Raises $170M, Valued At $1B+
Skydio, an American startup that makes autonomous drones, has closed a new funding round of $170 million that values it above $1 billion. The round was led by the famous venture capital firm Andreessen Horowitz, with participation from existing backers Next47, IVP, and Linse Capital, plus a new investor UP.Partners.
Andreessen Horowitz led the new Series D round for Skydio from its Growth Fund, and with it, Skydio has now raised a total of over $340 million in external funding and then with a $1 billion+ valuation that makes it the highest-valued drone startup in the US.
It seems that Skydio has drawn wide investor attraction after the US government placed China's DJI on a blacklist last year. DJI made its mark as the biggest drone maker globally and the largest in the US market but got placed on a government Entity List last year that barred American companies from supplying it with components. The blacklist was instituted by the former Trump administration due to alleged ties to Chinese military operations.
Now with DJI's business in the US set back, it looks like eyes have turned towards Skydio to lead the drone sector in America, and more so the market for high-tech pricey drones for enterprise and military operations. 
Skydio makes autonomous drones capable of moving and directing themselves without real-time and direct control by humans. It initially marketed its drones to individual consumers but later shifted focus to enterprises and governments. Already, it's secured major business partnerships including one with the aerial imagery provider EagleView for residential roof inspection purposes.
Current Skydio customers include enterprises like EagleView as well as governmental agencies such as the Ohio Department of Transportation, Boston Police Department, North Carolina Department of Transportation, and the Civil Air Patrol affiliate of the US Air Force.
In early February, Skydio was selected by the US Army to continue working on integrations for reconnaissance operations, implying potentially lucrative markets for the drone startup.
Another startup similar to Skydio that comes to mind is Anduril, one that's also backed by Andreessen Horowitz which just led Skydio's new round. Like Skydio, Anduril makes autonomous drones but in its case mainly for surveillance purposes and primarily sells its tech for defense operations. Anduril was founded by Palmer Luckey, who previously co-founded and sold virtual reality company Oculus to Facebook before starting Anduril.
Skydio currently has two drones in production, with the second released in 2019. That second, Skydio 2, is the company's current flagship product awaiting the release of a new Skydio X2 which was unveiled last year and is primarily marketed toward government agencies, the military, and aerial surveillance providers.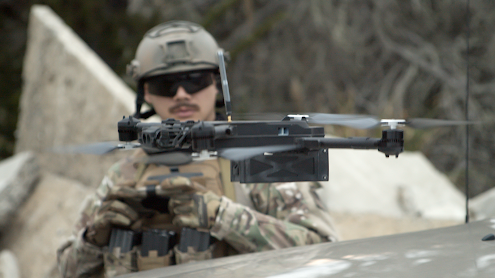 Skydio X2 drone in military operation.
Skydio also has a new adaptive scanning and surveillance software suite in the works called Skydio 3D Scan as it seems to be gradually turning into a twin Anduril. 
A seven-year-old startup, Skydio was founded by a group of engineering experts from the famous Massachusetts Institute of Technology (MIT) in 2014.