Taiwan's Foxconn To Build Cars For EV Company Fisker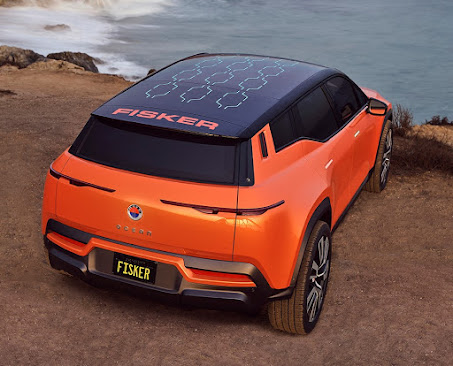 After becoming a public company last year through a merger with a special-purpose acquisition company (SPAC), electric carmaker Fisker has taken a bold and crucial step towards its planned manufacturing of electric cars with a partnership with Foxconn, the Taiwanese manufacturing powerhouse famously known for assembling Apple's iPhones.
Fisker has announced a partnership with Foxconn that'll see the Taiwanese manufacturing giant build electric cars bearing Fisker's name with projected annual production volumes of 250,000+ units. The vehicle to be manufactured by Foxconn will be Fisker's second electric vehicle and hasn't yet been unveiled.
Fisker says that the new electric vehicle to be built by Foxconn is planned to go into production by Q4 2023, roughly a year after the scheduled launch of Fisker's first vehicle, the Ocean SUV. Already, over 12,000 reservations have been booked for the Ocean SUV, wherein Fisker has grand plans to get into a competitive electric car market with a sleek-looking SUV (pictured above).
Noticeably, Fisker hasn't even yet begun producing its first vehicle but has now initiated plans for a second one. The company is fresh off a SPAC merger deal that handed it over $1 billion in cash proceeds to fund its capital-intensive operations of rolling out electric cars and it's seemingly keen to do that as soon as permitted.
Fisker is the eponymous EV company of automotive designer Henrik Fisker, who sort of made a name with a previous eponymous EV company, Fisker Automotive, that went bankrupt. He's apparently looking to stage a second act with his new Fisker company and has raised ample funds to do so.
For now, there's no word on where Foxconn plans to manufacture electric cars for Fisker. The Chinese manufacturing giant is particularly not new to the world of the automobile and already has an existing production partnership with the Chinese carmaker Geely.
Foxconn, formally known as the Hon Hai Technology Group, is a major electronics manufacturer that made its name as the primary assembler of Apple's iPhones. In recent years though, the company has sought to diversify from its traditional electronics manufacturing businesses into bigger sectors such as automobiles as more companies look to shift electronics production outside dominant regions in China where Foxconn majorly operates its factories.
It's such that a Foxconn partnership with Fisker very much hints at the company's ambitions of increasing its stronghold and looking to do so in a market that's poised for heavy growth in the coming years, the market for electric cars.
"The Fisker and Foxconn partnership brings together two global leaders in innovation that will join forces to unlock the potential of the electric vehicle industry," said Foxconn Technology Group Chairman, Young-way Liu, in a press statement.
Correction: We corrected this article to indicate that Foxconn is formally a Taiwanese company and not Chinese, though it maintains big operations in China.
Photo credit: Fisker Inc