New SPAC Merger: Air Taxi Startup Joby Aviation
Every new day or so brings new SPAC mergers and today's new merger happens to be Joby Aviation, a maker of electric vertical takeoff and landing (eVTOL) passenger aircraft, a.k.a air taxis. Joby has announced an agreement to merge with Reinvent Technology Partners (NYSE:RTP), a SPAC formed by a group including LinkedIn founder Reid Hoffman and Zynga founder Mark Pincus.
With its merger, Joby will become a public company trading on the New York Stock Exchange (NYSE).
Joby's merger deal values the company at $6.6 billion. Through the merger, the company will get roughly $1.6 billion in cash proceeds consisting of $690 million held in trust by the SPAC it's merging with, an extra $835 million from a private placement, and then a $75 million convertible note purchase from the ride-hailing company Uber that's being made under the terms of a recent deal of Uber selling its flying taxi business to Joby.
Joby's $835 million private placement will come from investors including BlackRock, Fidelity, Baillie Gifford, and hedge fund Baupost Group. With the funds raised from its SPAC merger, Joby will get ample money to finance its capital-intensive operations of producing electric aircraft.
Joby's merger with Reinvent Technology Partners has a unique draw to it, as both parties have agreed to a five-year lockup on shares held by their founders to incentivize long-term alignment with the company's vision and prospects. They've also structured an earnout deal where shares held by their founders won't fully vest until Joby reaches an implied market value of $30 billion+.
Usually, SPAC mergers have lockup periods for founder shares but not often as long as the five-year period agreed to in Joby's case. It's such that a five-year founder share lockup could better incentivize investors to bet on Joby's SPAC deal as its founders are long-term aligned or at least monetarily.
Though, in Reinvent's case, its two co-founders Reid Hoffman and Mark Pincus are already billionaires who made fortunes respectively founding the business-focused social networking site LinkedIn and gaming company Zynga.
Similar to Joby's founders, some of the company's executives and major stockholders have also agreed to separate share lockup deals.
Joby's SPAC merger is expected to be completed in the second quarter of 2021.
Business Overview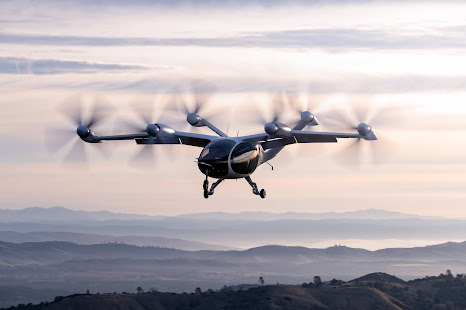 Joby makes electric vertical takeoff and landing (eVTOL) passenger aircraft that it hopes will become a major mode of urban transportation in the coming years. It's secured partnerships with transport and ride-hailing networks such as Uber to help prepare for a hoped-for feature when eVTOL aircraft will be a major form of urban transportation.
Over the past 10 years, Joby says that it's completed more than 1,000 test flights with its electric aircraft. The company is notably the first eVTOL manufacturer to have agreed to a certification basis for an eVTOL aircraft with the US Federal Aviation Administration (FAA) and also the first company to receive the US Air Force's first-ever airworthiness approval for an eVTOL aircraft.
Joby estimates the market opportunity for aerial mobility that it's targeting to be worth over $500 billion in the US alone and heading to over $1 trillion globally.
Right now, Joby Aviation is backed by hundreds of millions of dollars in venture funding. Its investors include the likes of Intel Capital, private equity firm Baillie Gifford, and Japanese automaker Toyota which has provided the bulk of Joby's external funding.
Joby has set its sights on kicking off mass production of its eVTOL aircraft soon at a 450,000 square foot manufacturing facility that it's designed in partnership with Toyota and will begin constructing later this year, and as constructing such a large production factory is expectedly costly, the money that Joby will get from its SPAC deal will come a long way here.
Joby Aviation's SPAC deal noticeably comes just on the heels of another similar electric aircraft manufacturer, Archer Aviation, also sealing its own SPAC merger deal to raise $1.1 billion.
Photo credit: Joby Aviation
Related;