Official: Lucid Motors To Go Public Via SPAC Route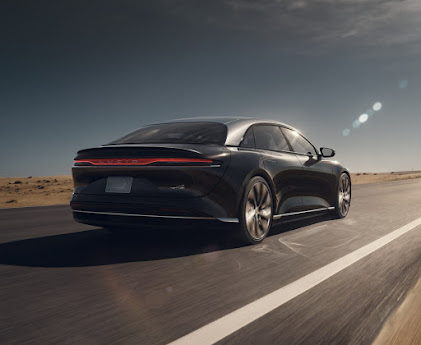 After months of rumors of electric car startup Lucid Motors looking to go public via the route of a merger with a special-purpose acquisition company (SPAC), it's now officially announced an agreement to merge with Churchill Capital Corp IV (NYSE: CCIV) in a deal that'll hand it over $4.4 billion in cash for its operations and value it at $24 billion Pro-forma.
A $4.4 billion cash and $24 billion-value deal isn't in the normal ranges for most SPAC mergers as it's on the high end of the deals sealed by SPACs by valuation. It should be expected in this case, though, as Lucid Motors is an electric carmaker, and investors have been very positive towards publicly-traded electric carmakers as of late.
Lucid Motors is one of the most-watched electric carmakers as it looks to ramp up production and begin delivering its first vehicles this year. Led by a former top Tesla engineering executive, the company is looking to establish a foothold in the American electric vehicle market and become a challenger to dominant brands like Tesla and GM.
Under the terms of its merger deal, Lucid will get $2.1 billion held in trust by Churchill Capital Corp IV, then an additional $2.5 billion from a private-investment-in-public-equity (PIPE) round fully committed by investors including BlackRock, Fidelity, Franklin Templeton, and Wellington Management.
Lucid's own merger transaction with Churchill Capital values the company at $11.75 billion, and it's then the $2.5 billion PIPE round that'll see shares purchased for $15 per unit that'll push Lucid's valuation to $24 billion. A $2.5 billion PIPE round is notably the biggest ever of its kind to come with a SPAC deal.
Lucid will get a whole lot more funds from its SPAC deal to ramp up production of its vehicles as it's set to debut into an increasingly crowded electric vehicle market. With nearly 2,000 employees already, the company plans to add 3,000 more by the end of 2022.
Following the completion of its merger, Lucid Motors will continue to be led by its current management team headed by CEO Peter Rawlinson, an auto industry veteran who was previously the Chief Engineer for Tesla's Model S sedan program. 
Lucid Motors' merger is expected to be completed in the second quarter of 2021. As it seems, the entity that'll majorly benefit from the company's merger is the Saudi Arabian government, whose sovereign wealth fund holds a reported 67% stake in the company thanks to a $1 billion investment in Lucid at a time when it was struggling in 2018.
The Saudi Arabian government has tens of billions of dollars parked in American technology investments both directly through its investment funds and indirectly through a $45 billion investment in the first $100 billion SoftBank Vision Fund.
Lucid's official SPAC merger deal comes on the heels of reports of another top American electric car startup, Rivian, looking to hit the public markets through a traditional listing.
Photo credit: Lucid Motors