QuantumScape; A Good Investment?
Just yesterday or precisely Friday the 28th of November, 2020, QuantumScape, a ten-year-old company that's working on solid-state lithium-metal batteries for electric vehicles, debuted on the public markets via a merger with a blank-check firm named Kensington Capital Acquisition Corp. 
The public debut added over $700 million to QuantumScape's coffers in addition to some $300 million in funding that the company had recently secured from the automaker Volkswagen and the Qatar Investment Authority, wheras QuantumScape fared very well and rose over 50% on its first day of trading.
Companies or more so technology companies often pop by fairly large margins on their first trading days but may later cool down over time, whereas there's no guarantee of a company that soars on its first trading day continuing to soar and not fall or, on the other hand, a company that falls on its first trading day continuing to fall and not rise.
Take for example the data mining and analytics firm Palantir. On its very first trading day, its share price slid a bit from $10 at debut to $9.20 at trading close just this September. However, in just the space of two months, Palantir's share price has nearly tripled and even rose to as high as $33.50 before settling down at $28.60 at the close of trading this Friday. 
In this case, we're looking at QuantumScape which has received initial warm reception from investors. We're providing a fair analysis of the company's history and what it does in order for our readers to judge if it'll be a good bet for them or other investors at large. In the end, we'll chip in our own advice, but it ultimately lies in your hands to make your own informed choice.
First, we'll dig into QuantumScape's history and how it came up over the years.
QuantumScape began as a project by two people, an entrepreneur and an engineering professor at Stanford University. Jagdeep Singh was an entrepreneur who had co-founded an optical networking company named Infinera and saw it through a successful public offering in 2007. He served as Infinera's CEO between the years 2001 to 2009 before stepping down and setting his eyes on another project.
After stepping down from his top leadership role at Infinera and transitioning to the role of Chairman, Singh apparently saw an opportunity in the electric car market which as of 2009 was nothing close to what it is today. For reference, the electric carmaker Tesla currently has a market value of over $500 billion but wasn't even a public company by 2009.
QuantumScape CEO Jagdeep Singh.
Photo credit: QuantumScape
To grab his next opportunity, Singh traced his roots to Stanford University where he had earlier obtained a Master's Degree of Computer Science from and connected with a professor from the school, a professor of Materials Science and Mechanical Engineering named Fritz Prinz. Together with Prinz, he founded a stealth company to work on battery technology for electric cars and named it QuantumScape.
Given Singh's track record of previously co-founding and taking Infinera public, QuantumScape didn't struggle to get funding and got early backing from investors including the venture capital firms Kleiner Perkins and Khosla Ventures along with entrepreneurs Bill Gates, who has a long history of backing ambitious and pioneering companies, and JB Straubel who co-founded the electric carmaker Tesla.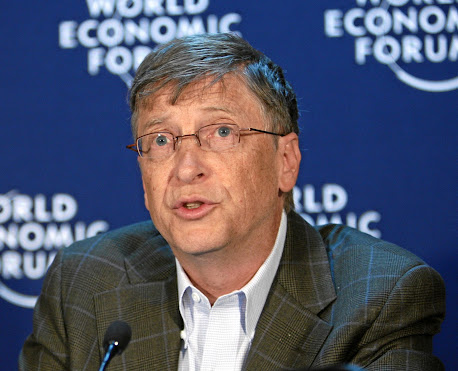 Microsoft Founder Bill Gates met with Jagdeep Singh in QuantumScape's early days and invested in the company via his
Breakthrough Energy
venture.
Photo credit: 
World Economic Forum, 
licensed under 
CC BY-NC-SA 2.0
After raising funding, QuantumScape went to work on the use of solid-state batteries in electric cars, a work that has been in progress up until now. The use of solid-state batteries in electric vehicles is regarded to be a potential breakthrough that could boost the driving ranges of mainstream electric vehicles by a wide margin compared to what's seen now.
For now, solid-state batteries are common in high-end hardware such as cardiac pacemakers, wearables, and RFID kits, whereas they ensure longevity for such hardware. The technology is, however, relatively expensive, hence its use in high-end devices, and poses several challenges including durability and energy and power density that's hindering its adoption in more common hardware such as smartphones and this case electric cars.
Many well-known technology and manufacturing companies, to name a few Toyota, Samsung, and Mercedes Benz, are also working towards the use of solid-state batteries in more common settings but have so far not revealed anything much tangible. 
It seems that solid-state batteries are akin to that shining diamond that everyone is digging for, whereas the person who finds it stands to reap a big fortune. In the very words of QuantumScape's own CEO Jagdeep Singh, "Whoever wins the battery battle, so to speak, is going to be looking at, in our opinion, a multi-hundred billion-dollar company".
Over the years, QuantumScape's work on the use of solid-state batteries in electric vehicles has significantly progressed. A great deal of that progress can be attributed to the German automaker Volkswagen which has been QuantumScape's anchor partner and lavished the company with over $300 million of funds to further its work.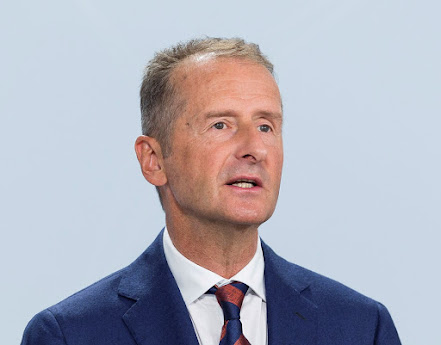 Volkswagen's CEO Herbert Diess has played a key role in QuantumScape's progress leading up to this point and secured a lucrative bet for the automaker he leads in the process of playing that role.
Photo credit: Volkswagen
Volkswagen's investment has made it an anchor investor in QuantumScape with a stake of roughly 20% and the first automaker in line to use QuantumScape's solid-state batteries if the company's plans come to fruition. 
Notably, QuanstumScape's first day of trading bestowed it with a market value of over $16 billion and made Volkswagen's $300 million+ investment in the company now worth $3.3 billion on paper, talk about something lucrative. A market value of over $16 billion for a company that doesn't expect to begin generating revenues until mid-2024 is kind of unheard of but in this case, investors are in explicit terms going nuts for QuantumScape. 
For context, QuantumScape currently employs about 200 people, summing up to a market value of over $80 million per employee. 'Going nuts' seems to be an apt description in this case.
Even though QuantumScape doesn't yet make any revenues, the San Jose-based company has ambitious projections of making up to $6.4 billion from the sale of 910,000 batteries between now and 2028. Halfway between that period which is 2024 is when the company expects to begin getting sales.
Now, if QuantumScape sees success in its solid-state battery work, there's no doubt it'll make big revenues. Its anchor partner and potential customer Volkswagen recently pledged to spend over $86 billion on electrification and automation over the next five years and we can deduce that a significant part of that amount will go to QuantumScape if the company delivers a successful working product. 
Probably, Volkswagen may even make a bigger electrication pledge in the coming years and give way for more potential revenue for QuantumScape.
That said, QuantumScape's business prospects seem very secure. It's now the technology prospects that seem shaky. The company's future depends on mass-scale and industrial commercialization of solid-state batteries for electric vehicles, something that hasn't been achieved before now, and achieving such would will QuantumScape a pioneer in the midst of much bigger-capitalized competitors who are working towards the same goal.
QuantumScape now has over $1 billion more to spend on its operations but that amount sums up to relative change for companies like Toyota, Samsung, and Daimler (Mercedes Benz) who are working on the same thing. Not too sound too alarming though, we have in the past seen lesser-funded players beat bigger-funded competitors in the same market with sheer focus, a key example being the electric carmaker Tesla.
Overall, QuantumScape is a high-risk bet that could pay off lucratively or, on the other hand, lead to lots of heartbreaks. For now, a $16 billion market capitalization seems outlandish and may probably cool off in the coming weeks.

Notably, QuantumScape is somewhat secretive and hasn't yet made a public show of its progress in developing its solid-state batteries or more so at an industrial scale. 
Our advice is that you may bet on QuantumScape if you have tolerance for high-risk and money to spend that won't break your bank. For this kind of company, you could make very good on your bet or lose a high amount so you better use an amount of cash that won't make you sad if lost. 
If you have an opposing view, you're welcome to dish them out in the comments section. 
QuanstumScape is high-risk, high-reward, we stipulate.