Big Pay: Palantir CEO Alex Karp Gets $1.1B Payday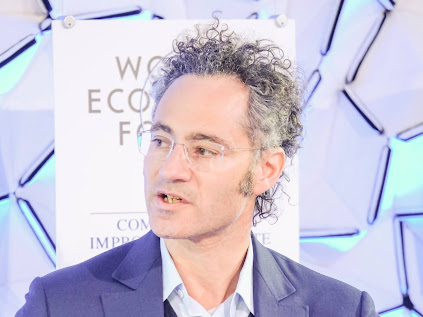 America is the land of many things, including very enormous CEO pay. CEOs of publicly-traded companies in the US are known for outsized paydays coming mostly from stock compensation, with just-recent examples including the former CEO of T-Mobile getting a $137 million severance pay and the CEO of crypto exchange Coinbase earning $60 million in 2020.
Now, an even bigger CEO paycheck upstaging the two above examples by far has arrived. It's that of the CEO of Palantir, Alex Karp, who got a whopping $1.1 billion payday in 2020, as revealed in the company's proxy filing. The pay comprised mostly of options and stock awards, precisely $798 million in options and $296 million in stock awards that'll begin vesting in August 2021 up until August 2032.
In 2019, Karp earned $12 million in his role as CEO. His outsized pay of $1.1 billion came in the year that Palantir listed on the public markets and to good investor sentiment that's currently seen its market cap soar to over $40 billion.
Palantir debuted at $9.50 a share and soared past a record $35 in January. It closed trading on Thursday at $23.37.
At the time of Palantir's listing on the New York Stock Exchange, he owned about $1 billion worth of stock in the company. He's since sold over $350 million worth of that stock, according to SEC filings.
Karp co-founded Palantir along with renowned tech investor and entrepreneur Peter Thiel in 2003. He's served as its CEO for a very long time in a role that saw him oversee Palantir's expansion from a small startup into a data analytics giant with numerous governmental and corporate customers.
But, eh, to note, Karp's pay of $1.1 billion is equal to Palantir's entire revenue in 2020. It also seems outsized for a company that's reported no annual profit in its existence and lost $1.2 billion last year. For context, his $1.1 billion pay appears to the biggest for an executive disclosed by a public company in the US for the year 2020.
Karp was joined by a few other Palantir executives having big paydays last year. They include President Stephen Cohen who earned $192 million and Chief Operating Officer Shyam Sankar who earned $102 million. Like Karp, their earnings consist majorly of equity and options awards vesting over time.
Karp has already sold over $350 million worth of Palantir shares for hard cash he gets to keep. He's one of several insiders in the company who have cashed out big figures, along with co-founder Peter Thiel who has netted over $780 million from selling Palantir shares.
Karp has proven once again that the chances of getting enormous CEO pay are far higher in the US than in any other nation, and if you want outsized pay as a CEO, you should likely head over there 🙂
Photo credit: World Economic Forum, licensed under CC BY-NC-SA 2.0
Similar news: