EVs: Mercedes-Benz Unveils New All-Electric Van
German luxury car brand Mercedes-Benz has yet again unveiled a new electric car model concept, this time an all-electric van. The new van seems to be an all-electric copy of the Mercedes "T-Class" van which was unveiled last year.
The all-electric van is named EQT, planned to launch in 2022, according to a press statement from Mercedes-Benz.
Features:
The Mercedes EQT van is planned to accommodate as many as 7 passengers with its interior. By look, it has the usual luxurious features expected in a Mercedes model; plush seats with much leg space, glossy exterior et al.
Other notable features of the EQT concept van include 21-inch light-alloy wheels and sliding doors on both sides of the van allowing access to the third row of seats.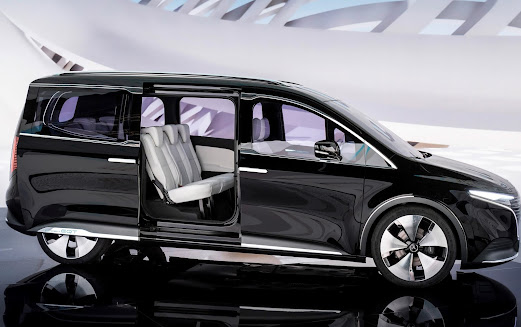 Bigger Picture: 
Mercedes-Benz's parent firm Daimler is focused on the electric car market for future prospects just like most major automakers out there that have seen the writing on the wall. 
In that case, Mercedes has begun working on electric versions of its popular car models, looking to push customer enthusiasm for its ICE cars onto electrified models. The company had previously unveiled an all-electric SUV concept which made it into actual production and helped triple its electric car sales last year.
Bottom line: 
The new EQT van is the latest example of Daimler's increasing commitment towards electric vehicles in competition with many other rivals such as Tesla, which is building a major production factory in Daimler's home country of Germany to better compete there.
We should be expecting more all-electric car unveilings from legacy automakers like Mercedes-Benz as the auto industry gets closer towards widespread electrification.
Photo credit: Mercedes-Benz