Facial Recognition; A Real Privacy Scare Or Mainly Mania?
SenseTime, Megvii, Yitu, AnyVision, Clearview, Paravision (formerly Ever AI), Trueface. Do these aforementioned names sound familiar to you? if so, then you're likely conversant with the development and growing adoption of facial recognition technology around the globe as they're all tech firms offering facial recognition software to different types of customers, be it law enforcement, retailers, colleges, real estate firms, private investigators and so on.
The growing adoption of facial recognition technology has however not been without consternation. There are worries, profound ones indeed, concerning misuse or abuse of such tech especially in the wrong hands and privacy intrusions emanating from its use on uninformed, unsuspecting individuals. Take, for instance, Clearview AI. If you're familiar with facial recognition startups, you should know Clearview, a secretive startup whose secrecy happened to have been fragmented by a recent investigation by The New York Times that shed light on its facial recognition software, which is able to identify persons by matching their photos with a database containing billions of photos scraped from the public web, photos scraped without proper permission in several cases.
Although there are other companies offering similar solutions, Clearview's stirred much attention given reports of near-perfect accuracies in identifying persons and uncertainty around its client base. While Clearview earlier said its software was "strictly for law enforcement", an ensuing report from BuzzFeed News which happened to have obtained its client list revealed other users ranging from retailers such as Kohl's and Walmart to banks like Wells Fargo, entertainment companies, fitness chains such as Equinox and even the NBA. A recent report from The New York Times revealed that select individuals also had access to Clearview's software over a year before the company became the subject of public scrutiny.
However, the majority of Clearview's clients happened to have used its facial recognition software on free trials and not as paying customers, BuzzFeed News' report noted.
Now, facial recognition use by law enforcement may not resonate well with lots of persons but could be understandable. Individuals and private corporations on the other hand? not so well. Firstly, there's the issue of privacy. Why run searches on uninformed individuals, and even in a case where they're informed, for what precise reason?. Even when precise reasons are provided, technology, as we know, is susceptible to flaws and bugs. Would a wrong facial match lead to unfavorable consequences for an individual?. There's also the issue of bias which a recent study from the US National Institute of Standards and Technology shed light on, in its case facial recognition algorithms falsely identifying African-American and Asian faces at higher rates than Caucasian faces.
Clearview has hit some barriers since the investigation from The New York Times was published. Facebook, Google, and Twitter, three tech giants whose platform likely accounts for a great deal of its database of scraped photos, have sent the company cease and desist letters demanding it stops scraping photos from their platforms. The state of New Jersey barred the use of Clearview's software by its police officers. Apple blocked its iPhone app after finding it to be in violation of its rules.
It's also worth noting that Clearview's CEO, Hoan Ton-That, is known to have been the mastermind behind ViddyHo, a website that hijacked users' Gmail accounts after requesting log-in information under false pretense and sent out chat messages that spread itself further, what is otherwise known as 'phishing'. After affecting lots of persons, it was later shut down. This seems like Ton-That after having invaded users' privacy in a previous case is now asking law enforcement agencies to trust him with a very crucial tool.
Clearview isn't the only facial recognition company out there, so we'll digress. There's also AnyVision, an Israeli-based startup that Microsoft, one of its investors, had to investigate after reports of the company's facial recognition software being adopted for a secret surveillance project by the Israeli military that monitored Palestinians in the West Bank, a landlocked territory that has been a salient element in the long-running Israeli–Palestinian conflict. Microsoft sought the services of Eric Holder, a former Attorney General of the U.S., to conduct the investigation.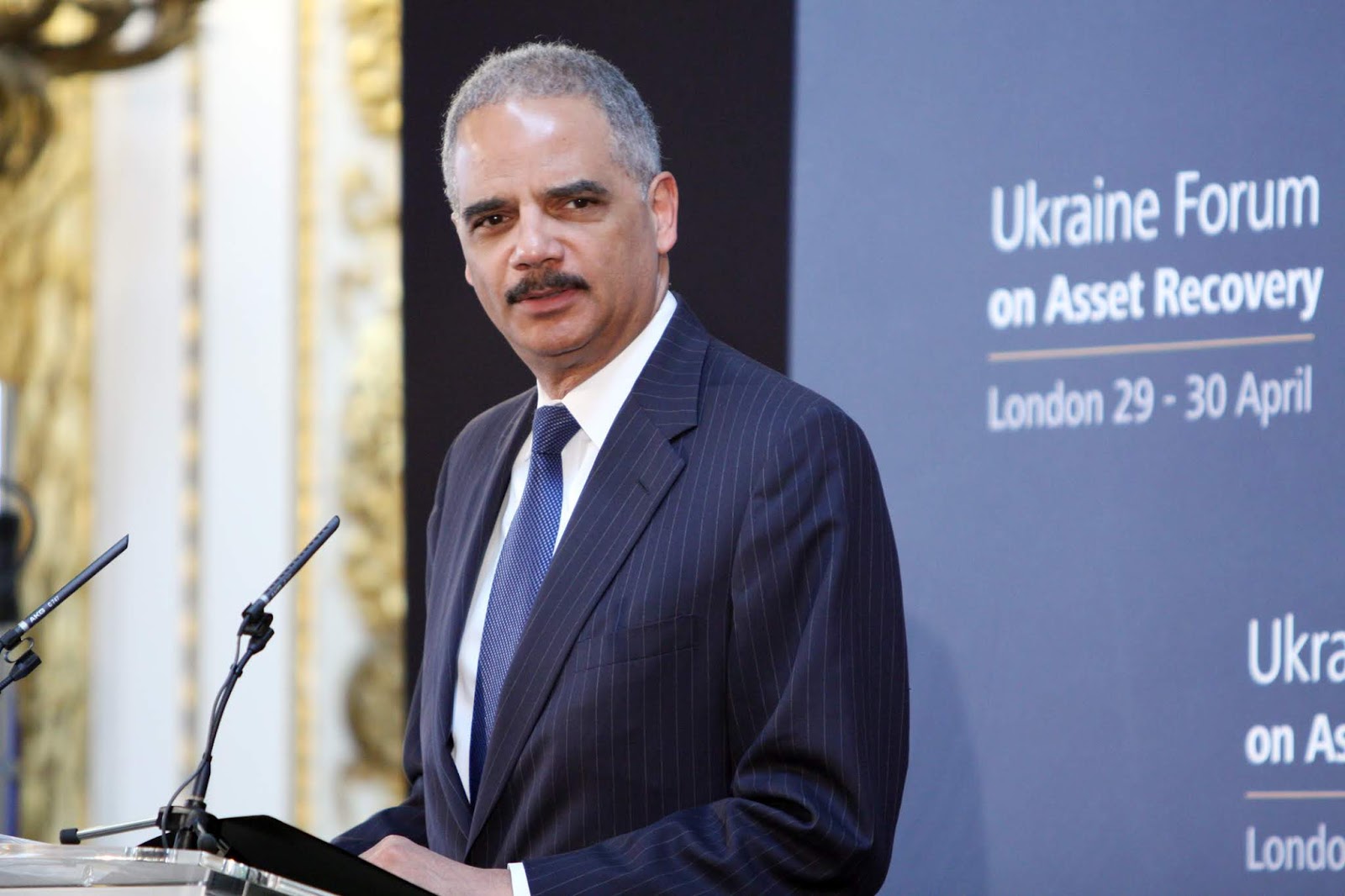 Eric Holder, who served as the 82nd Attorney General of the U.S. from 2009 to 2015, was billed to conduct an investigation into AnyVision alongside a team of lawyers.
Likewise, SenseTime and Megvii, two private Chinese companies valued in the billions by its investors, have stirred controversy over its sale of facial recognition software to agencies associated with the Chinese government. Both companies were among 28 firms recently blacklisted by the U.S. government for "acting contrary to the foreign policy interests of the United States". Megvii's blacklist may have been the major reason it postponed an imminent IPO after already filing to go public. U.S.-based investment bank Goldman Sachs, which was to play a role in Megvii's IPO, said it was reviewing its relationship with the company after the blacklist.
Relatively smaller companies like Clearview, AnyVision, SenseTime and Megvii aren't the only ones selling facial recognition software. Tech giant Amazon also markets its own facial recognition software and drew objections both from investors and employees over its use by U.S. government agencies.
In summary, the adoption of facial recognition technology seems to be growing globally, alongside advancements in the area. While facial recognition software has existed for quite a long time, those currently in use are more advanced and more accurate, although not perfect, when compared to previous ones thanks to advancements in artificial intelligence and machine learning algorithms.
The growing use of such software then poses several risks, some of which are aforementioned. Save for privacy intrusions, bias, susceptibility to mistakes, misuse and abuse, there are also numerous other potentially risky scenarios. How about sales to governments with poor human rights records? susceptibility to hacking and breaches? use for predatory marketing? identity fraud? facilitation of criminal activity when in the wrong hands? the list seems endless.
Several jurisdictions have recognized the risks of adopting facial recognition tech at a time when there are no precise regulations governing its use and what seems to be a lack of understanding from the general population about its use (not that most are unwilling to learn, we may not even know what is there to know given the lack of clear-cut information from sources meant to provide them).
In October last year, California became the third U.S. state to ban the use of facial recognition. A few other cities and government-associated agencies have also restricted their use. This seems to be a good step.
Now, don't get us wrong, facial recognition is not inherently bad. There are some good cases where it can be applied, for example, fighting gambling addiction, identifying missing persons and even pets, identifying unknown bodies, singling out criminals as regards to investigations, and so on. These are cases where they can prove to be effective for a greater good and seem called for. However, given current situations, the risks don't seem to have been sizeably gauged leaving no choice but to postpone its use till we're at a point where strict laws and codes of conduct are set in place regarding its use.
Now, based on information about current circumstances regarding facial recognition use which are highlighted by afore written paragraphs, we should be able to answer the question as to whether facial recognition poses a real privacy scare or what can be dubbed mainly as mania from the general public under current circumstances, and lo, we feel it's the former, a serious privacy scare.
However, this isn't to incite panic or hysteria, it's just a simple write-up to make more persons aware of the growing adoption of facial recognition tech around us. Ignorance, in this case, can never be bliss as understanding the use of new tools around us is a requisite for existence in the 21st century. You shouldn't just stop here but also read up and garner more information from other reputed sources. This is a societal issue, entailing everyone is involved.
If you're the curious type, you should perhaps also read up on our recent write-up concerning the promise of self-driving cars which seems to have been broken by those who made such promises.