LVMH Buys Half Of Jay-Z's Champagne Brand
With a popular premium champagne brand to his name, it's likely that Jay-Z always has many reasons to pop bottles every other day. Now, he should have an even bigger reason, as he's just sold a 50% stake in his premium champagne brand Armand de Brignac to Moet Hennessy, the wine and spirits division of French luxury goods conglomerate LVMH.
After 15 years of affiliation with Armand de Brignac, Jay-Z has now likely cashed out a significant sum with a sale to LVMH, though the financial details of the deal were not disclosed.
Jay-Z originally purchased a 50% stake in Armand de Brignac in 2006 and then purchased the remaining half in 2014. The premium champagne brand, famously known by its nickname "Ace of Spades" is a major premium wine seller that sold over 500,000 bottles in 2019 alone. It's been a hit in the regions of North America, Asia, and Europe.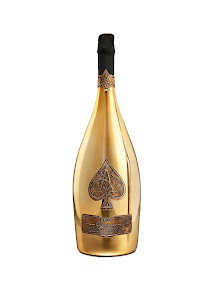 Armand de Brignac champagne bottle.
With LVMH now holding an equal stake in Armand de Brignac with Jay-Z, they'll most likely work together to grow the premium champagne brand. The partnership is similar to the one LVMH has with another big music star, Rihanna, with her Savage X Fenty brand, and as a matter of fact, it seems that this year has been a celebrity deal frenzy for LVMH as Rihanna's Savage X Fenty recently closed a funding round that valued it at $1 billion.
Though Jay-Z made a big name for himself as a hip-hop star, he's long spread his wings into the business world and also made waves there. In addition to Armand de Brignac, he also controls several other big businesses including Tidal, the music streaming service that's rumored to be of acquisition interest by the payments company Square.
With a sale to LVMH, it's likely that Jay-Z has elevated his already big financial status. The legendary rapper and businessman already makes do with a net worth of $1 billion according to Forbes magazine.
Photo credit: Joella Marano, licensed under CC BY-SA 2.0