Space: Rocket Trip With Jeff Bezos Sells For $28M
A seat on a planned short space trip by Blue Origin, the aerospace company owned by Amazon's Jeff Bezos, has…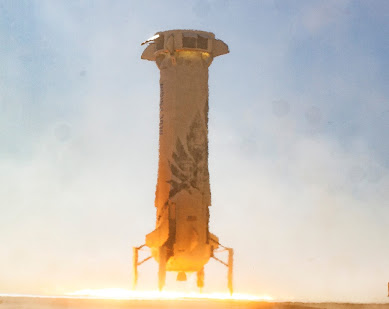 A seat on a planned short space trip by Blue Origin, the aerospace company owned by Amazon's Jeff Bezos, has been auctioned off for a large amount – $28mn. That emerged as the winning bid from a group of 7,600 people across 159 countries.
The $28mn bid was won by a yet-to-be-identified person, who will take a short trip to space aboard Blue Origin's New Shepard rocket. He/she will tag along with Jeff Bezos and his brother Mark Bezos on the trip to the edge of space.
It'll be a short 11-minute trip to suborbital space and back as the first crewed mission undertaken by Blue Origin. It's a critical first space trip with humans aboard since Blue Origin was founded in 2000.
The ride aboard Blue Origin's rocket is scheduled for July 20, barely two weeks after Bezos will step down as Amazon's CEO and become Chairman. It seems he has been waiting all this while to relinquish his CEO duties and take a trip to space.
Blue Origin's first crewed mission is a thing of pride for Bezos in the billionaire space race where he's competing with the likes of Elon Musk (SpaceX) and Richard Branson (Virgin Orbit). Among the three, he'll be the first to reach space by himself.
Though, Bezos won't be the first known billionaire to hit space. That title has already gone to Mark Shuttleworth, who spent eight days on the International Space Station (ISS) in 2002 at just 28 years old. He paid a reported $20mn for the trip.
Bezos launched Blue Origin in 2000, at a time when he also hard at work building Amazon into the tech behemoth it is today. Two years later, a then little-known entrepreneur named Elon Musk launched SpaceX, which has far eclipsed Blue Origin in the spaceflight industry.
Since its start, Blue Origin has been wholly funded by Jeff Bezos with little or no revenues. The $28mn winning bid represents the first major income for the space company, though it'll be given to an affiliated STEM education foundation named Club for the Future.
Photo credit: NASA Flight Opportunities, licensed under CC BY-NC 2.0