Zoox Unveils Purpose-Built Robotaxi
Fresh off its acquisition by Amazon, the self-driving company Zoox has unveiled a new purpose-built robotaxi that it says is capable of operating…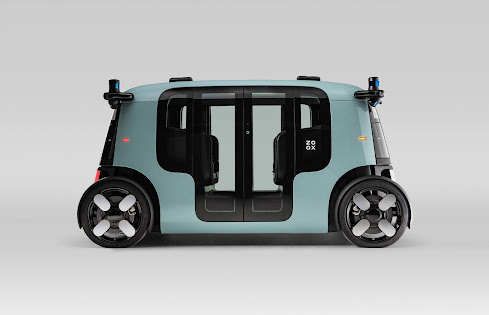 Fresh off its acquisition by Amazon, the self-driving company Zoox has unveiled a new purpose-built robotaxi that it says is capable of operating at speeds of up to 75 miles per hour. The new robotaxi is a 3.63m-long electric vehicle with a four-seat, face-to-face seating configuration that Zoox plans to use in an upcoming robotaxi service.
Like several purpose-built robotaxis, Zoox's vehicle isn't configured like today's conventional cars, having a motor at each end that makes it travel in either direction. It's electric, with a 133 kWh battery pack that makes it capable of operating up to 16 hours on a full charge, Zoox says.
Zoox's new vehicle is fit with lidar sensors delivering a 270-degree field of view on each of its four corners, catering to driverless movement. Already, the company says it's begun building a few vehicles in a California factory even though it's apparently years away from deployment.
Zoox's vehicle looks similar to one that was unveiled by one of its major rivals, GM Cruise, early this year. Just like Zoox, GM Cruise also plans to make use of its vehicle named Origin in a ride-hailing service.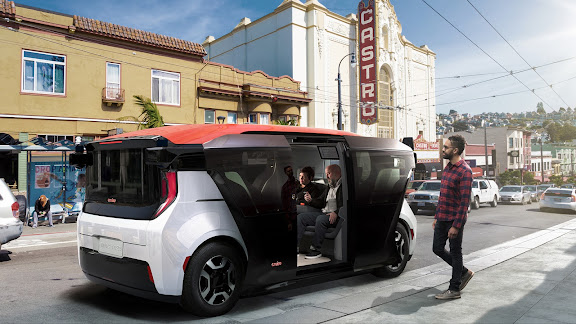 GM Cruise Origin.
Photo credit: GM Cruise
Zoox plans to initially launch an app-based ride-hailing service in cities like San Francisco and Las Vegas, with testing having already begun in the two cities. Now housed under the e-commerce giant Amazon, the company will likely have access to needed capital to develop a custom robotaxi operation of its own.
The unveiling of Zoox's first purpose-built robotaxi is the result of years of work beginning from the company's founding in 2014. In preparation for a planned commercial roll-out, Zoox says it's secured a factory that's capable of producing between 10,000 to 15,000 units of its vehicle annually.
Photo(s) credit: Zoox