Analysis: Salesforce Drops Q1′ 21 Earnings Report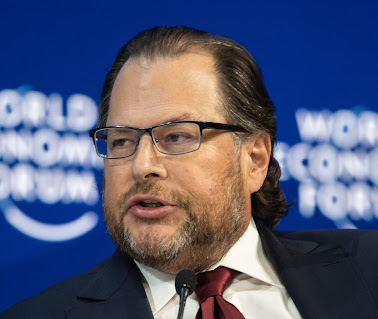 CRM software giant Salesforce has unveiled its latest quarterly earnings results for its fiscal 2022 first quarter, in actuality the quarter ended April 30, 2021. "We had the best first quarter in our company's history," CEO Marc Benioff noted.
For the first time ever, Salesforce provided the quarterly revenue breakdown for two of its biggest acquisitions, MuleSoft and Tableau Software. That breakdown offers clues about what's about to be Salesforce's biggest acquisition, its $28bn purchase of Slack.
By The Numbers
Salesforce had $6bn in revenue in the quarter, up 23% year-over-year. Net income was $469mn.
Out of $6bn, MuleSoft and Tableau Software respectively brought in $380mn and $285mn in revenue, with MuleSoft's up 49% year-over-year. 
Salesforce bought MuleSoft for $6.5bn in 2018 and Tableau for $15.7bn in 2019. Tableau and MuleSoft are its first and second-biggest acquisitions to date, about to be eclipsed by the Slack deal which hasn't yet closed. The high price Salesforce paid for them appears to be living up to it with high sales.
Slack
Salesforce is about to buy Slack in what would be its biggest acquisition by a large margin. The precise price Salesforce is paying is $27.7bn, split into $15.6bn in cash and $12.1bn in stock.
Slack reported $903mn in revenue in its most recent fiscal year ended January 31, 2021. Revenue was up 43% compared to the previous year. At that point, Salesforce is paying a roughly 30x revenue multiple to buy Slack, much higher than the 14x multiple it paid for Tableau and 22x for MuleSoft.
As it looks, Slack is a much hotter property so Salesforce saw it fit to pony up much more money to buy it. Even, it took a $10bn debt facility from a group of banks to fund its Slack purchase.
Salesforce's purchase of Slack has picked up some antitrust scrutiny from the US Justice Department, which earlier this year requested for "additional information and documentary material" related to their merger.
Highlights
Salesforce ended the quarter with a full-time headcount of nearly 60,000, an addition of over 3,000 compared to the previous year. With Slack's acquisition expected to be completed this year, it'll get an additional 2,500+ employees to its headcount.
Salesforce reported having $3.9bn worth of strategic investments at the end of the quarter. Through its VC arm, Salesforce Ventures, the company has invested in many startups and companies, with a few examples being Zoom, Dropbox, Lyft, and Twilio.