Electric Car Startup Rivian Raises Fresh $2.65B Round
Just six months after closing a funding round of $2.5 billion, the electric car startup Rivian has closed a fresh…
Just six months after closing a funding round of $2.5 billion, the electric car startup Rivian has closed a fresh funding round of $2.65 billion led by T. Rowe Price Associates, with participation from Fidelity, Amazon, Coatue, and D1 Capital Partners.
The new round reportedly values Rivian at a whopping $27.6 billion, making it the most valuable electric car startup globally even before delivering its first product. With the round, Rivian has now raised a total of $8 billion in venture funding since the start of 2019, an unprecedented amount for a private auto company of its kind.
With two vehicles in the pipeline set to be launched this year, the R1T pickup truck and the R1S SUV, Rivian has apparently raised a new big round to strengthen its push into a competitive electric car market. The company is targeting US deliveries of its R1T pickup in June and for its R1S SUV in August.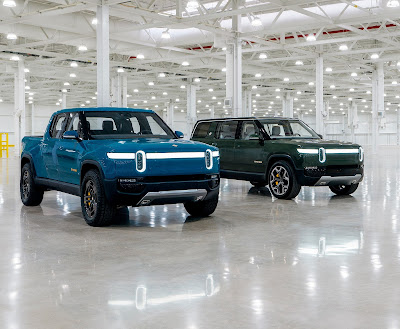 As it's set to launch its cars, Rivian will be heading into a competitive and increasingly crowded market for consumer electric cars. In the SUV market, it faces many rivals while in the market for electric pickup trucks, it's entering into a yet largely untested market as one of the first movers.
Even in the largely untested market for electric pickups, there exists a lineup of potential major rivals that Rivian will face, such as Tesla's upcoming Cybertruck and Ford's upcoming electrified F-150 truck, the usual F-150 being the best-selling vehicle in the US over the past four decades.
To pat its back, Rivian has a lucrative deal to supply 100,000 electric vehicles to the e-commerce giant Amazon, which is an investor and a strategic partner to Rivian. The company has gathered a workforce of over 3,000 employees to deliver on its promises.
For both the R1T pickup truck and the R1S SUV, Rivian is promising between 250 and 400 miles of driving ranges, on par with that of many rivals. It now appears that the ball sits in Rivian's court to adhere to its promises and fight for its fate in the big and still growing electric car market.