Private Equity Firm Apollo Adds Ex-SEC Chairman Jay Clayton To Board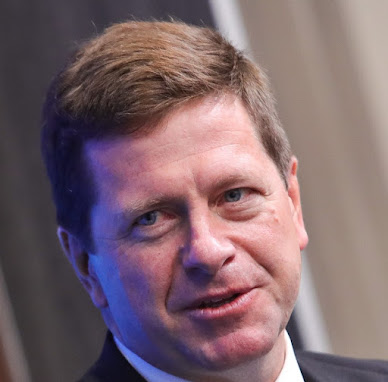 It seems that the revolving door between top government jobs and those in the high classes of the finance industry is still open, as Apollo Global Management, a private equity giant with over $455 billion under management, has appointed Jay Clayton as Lead Independent Director of its board. Clayton is the former Chairman of the US Securities and Exchange Commission (SEC) who served under the just concluded Trump administration.
Apollo created a new role for Clayton, whose appointment comes shortly after the private equity firm's co-founder and long-time face of the company Leon Black penned his resignation after an investigation regarding his ties to the late American financier and convicted sex offender Jeffrey Epstein. Black was subject to an investigation after revelations of his dealings with Epstein that involved payments from Black to Epstein to the tune of $158 million.
With Black's resignation, it seems that Clayton's appointment to a newly created role of Lead Independent Director of Apollo's board is being done to ease things up at the company as Black's departure leaves a leadership hole. Black built a name and reputation for himself as one of the titans of the private equity industry, albeit a reputation of being brash and "ruthless".
Clayton is transitioning from the role of SEC Chairman which he stepped down from in December 2020 to an assumedly monetarily lucrative role of Lead Independent Director of Apollo's board. He's not new at all to the finance industry, having worked as a lawyer that represented prominent Wall Street firms like Goldman Sachs, UBS, Deutsche Bank, and hedge fund Pershing Square before taking up a government job.
Clayton has also had individual clients who are titans of the finance industry such as hedge fund tycoon Paul Tudor Jones.
Actually, Clayton has had some connections in the past with Apollo, with his asset disclosures as a government official under the Trump administration revealing personal investments in private equity firms including Apollo, though he divested from them after his appointment as SEC Chairman. Being a veteran of the finance industry, his disclosures revealed personal and family wealth of at least $50 million invested in various entities.
As Apollo has added Clayton to its board, the private equity firm says that it'll continue to expand the board with additional directors. It already added two board members just last month, finance veteran Pamela Joyner and renowned physician and scientist Siddhartha Mukherjee.
After Black's departure, Apollo says that it's considering restructuring its share class structure to a one share/one vote structure, a notable one given its current unequal share/vote structure for shares held by its founders and executives including Leon Black. The consideration falls under governance changes that were spurred by Black's departure. 
Photo credit: BrookingsInst, licensed under CC BY-NC-ND 2.0